Izmir: Pastry, Bread and Coffee houses
www.madeeasierguides.com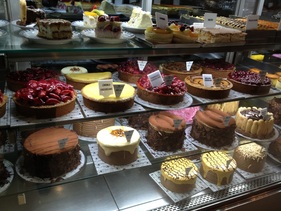 Reyhan: Mustafabey Cad. No.24, Alsancak. Tel: (0232) 422 2802. and in: Cengiz Topel Cad. No:16/A. Bostanlı, Tel: (0232) 362 6320. They also have a shop in Agora Shopping mall and in the Optimum Shopping mall, very nice things

Sevinç Pastanesi: ‪Ali Cetinkaya Bulvari No 31/A, Alsancak. Tel: (0232) 421 7590. Very well known place to meet
Leone Patisserie & Boulangerie: ‪Vasif Cinar BulvarI 29/A Lozan MeydanI, Alsancak. Tel: (0232) 464 3400. French style. They have the best Croissants in town and much more
Jocelyne Patisserie: 1382 Sok. No : 23/B. Alsancak. Tel: (0232) 464 7417. They are a 'boutique' patisserie. Special cakes for special occations.

Bravo: Cemal Gürsel Cad. No:111, Bostanli. Tel: (0232) 362 9191. Very nice cakes

Kahve Diyari: Gazi Osman Paşa Cad.No:28, Alsancak. Tel: (0232) 445 6060. Another one in Ataturk Bulvari next to Konak pier
Dibek Kahve: 902 Sok.No:8,Hisarönü. In Kemeralti . A very small place where they ground the coffee freshly in front of you

The Laps. Vali Kazım Dirik Cad. No:46-C, Alsancak. Tel: (0232) 483 5277. Great small new coffee place next to St. Polycarp !
Two Cups: Kıbrıs Şehitleri Caddesi No:179/Z1, Konak. Tel: (0232) 464 4669. Nice small place where they brew their own coffee.
Baristocrat: 3rd Wafe cafe and Roastry: Şehit Nevres Bulv. 21/A, Alsancak. New small cozy coffee house
Pasta 7: Tuna, Tiyatro Sok. No:69, Karşıyaka. Tel: (0232) 364 0717
Çukutala cafe: cengiz Topel Cad. No:46/1E, Bostanli. Tel: (0232) 330 4411. They also have pre-mixed cakes and much more!
Şükrü Bey'in Yeri: 905 Sk. No:13. Next to the Kızlarağası Hanı, Hisarönü, Kemeraltı

Kızlarağası Hanı cafe: In the middle of the Kızlarağası Hanı is the most ancient coffee place. Don't miss having a Turkish coffee there

Chocolates:
Gusto Confiserie: 1382 Sokak No: 30/A, Alsancak. Tel: (0232) 463 2666. They have very nice chocolates!
Mabel: 1381 Sokak No:10/1A, Alsancak. tel: (0232) 422 1212. They have all kind of chocolates and sweets
Breads:
In all the supermarkets they sell now nice bread, but some special places are:
Alsancak Dostlar Fırını: Kıbrıs Şehitleri Cd. No:120, Alsancak. Tel: (0232) 421 9202. Their speciality: Boyoz. Try the one with spinach!
Altinyol Unlu Mamulleri: Kıbrıs Şehitleri Cd. No:117/A, Alsancak. Tel: (0232) 464 5352
Alsancak Unlu Mamuller: Kıbrıs Şehitleri Cad.No:29, Alsancak. Tel:(0232) 4649393
Alsancak Unlu Mamuller: 1379 Sok.No;2/B, Alsancak or in Agora AVM in Balçova.
Leone Patisserie & Boulangerie: ‪Vasif Cinar BulvarI 29/A Lozan MeydanI, Alsancak. Tel:(0232) 464 3400. French Bread and pastries
Karma Bäckerei. Fazılbey Caddesi No 60/A Aksoy-Karşıyaka. Tel: (0232) 368 5828. German Breads
Ekmek Aşkına. Ataşehir Mah.Ataturk Bulvarı 8019 SOK NO:14 Çigli. Tel: (0232) 386 5758. German Breads
Tarihi Basmane Fırını; Anafartlar Cad. No: 850, Basmane. Tel: (0232) 483 0452. You can give them some TL for charity and they will give the Bread to the people in need
Others:
Cakes: German and Austrian cakes and tarts home-made: To order them and see what they have new call Zeliha cell: (0532) 4827595
Yomumu - Frozen Yugurts & More: Plevne Bulv. No: 19/D, Alsancak. tel: (0232) 404 1400

Cremeria Milano: 1387 Sk. No:5/B, Alsancak. Tel:(0232) 464 3474. They have very nice ice-creams and they deliver home !

Tricolore: İtalya Sok. No:11/B, Alsancak. They have ice-creams and nice small things to eat

Tea & Pot: 1379 Sokak No: 15/B, Alsancak. Tel: (0232) 463 5752. Small tea House where they sell also all kinds of tea sorts.
---
Coffee Culture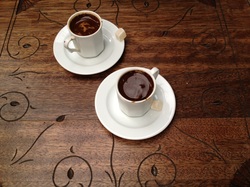 Turkish Coffee:

The roasted coffee beans are very finely grinded. It is prepared in a small pot called cezve, In the cezve, first put the cold water and sugar, then add the coffee and boil it. It is then served in a cup, but allow it to settle a little bit before drinking.
In some places when you finish drinking your coffee, place your saucer on top of the cup, then turn it around and let it cool. Don't forget to make a wish before turning! A fortune teller will then be able to read your coffee and...your future...
When you order a Turkish coffee, you will be asked in advance how much sugar you want in it. You can have it: Sade (no sugar), Orta şekerli (medium sweet) or çok şekerli (very sweet).


---
Turkish tea: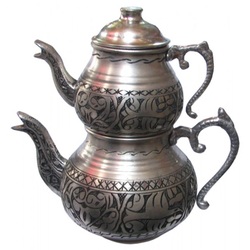 Turkish tea, (çay) , is black tea which comes from the black sea region, is consumed without milk.

Turkish tea is typically prepared using a çaydanlık (two stacked kettles) specially designed for tea preparation. Water is brought to a boil in the larger lower kettle and then some of the water is used to fill the smaller kettle on top and steep several spoons of loose tea leaves, producing a very strong tea.

When served, the remaining water is used to dilute the tea on an individual basis, giving each consumer the choice between strong tea (koyu) or weak tea (açık). Tea is drunk from small glasses to enjoy it hot ( watch out not to burn your fingers).

---