Skiing in Turkey:
www.madeeasierguides.com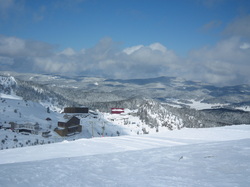 There are many places where you can Ski in Turkey.
Here you will find information about the main areas:Kartalkaya (Bolu), Uludağ (Bursa), Palandöken (Erzurum), Sarıkamış (Kars),
Erciyes (Kayseri), Ilgaz National Park Kartalkaya (Bolu)
Altitude: from 1860 to 2225 meters
Kartalkaya
means 'Eagle Rock' and is only about 2:30hours drive from Ankara. It is the nearest place for skiing from Ankara. You can stay for the week-end or even from Ankara you can do it on a day trip. Check the weather forecast in advance, as when it's misty or strong winds it's not very comfortable. On school holidays it can be crowded. If you drive from Ankara, take the highway direction Istanbul, get out at "Dörtdivan", From there, it's 40 km to Kartalkaya. you will find road signs showing you the way. It is a very nice skiing area and also popular among snow boarders.
Kartalkaya is divided in two skiing centers.
a) Kartal Hotel skiing area with 11 lifts
b) Dorukkaya skiing area with 8 lifts
Where to stay:
Gran Kartal Hotel: Tel: (0374) 234 50 50. Pool inside the hotel, great for kids. You can also rent skis here if you come on a day-trip. Try to come early as when the buses arrive the queues to buy tickets and ski rentals can be very long.
Dorukkaya Hotel: Tel: (0374) 234 51 00. You can rent skis, boots, etc there, but expect the price be a bit high and long queues
Golden Key Lodge: Tel: (0374) 234 5059. Upscale hotel. You can ski in both areas from here.
If you stay in one of the Hotels you can have lunch there, another possibility is also at the bottom of the first ski lift is a hut/restaurant. You cannot miss it as the music is very loud that you can hear it even half way up the mountain. There is also a small place on top of the t-bars, but you will be able to find only small hot or simple items for a high price.
Click here to see the Weather in Kartalkaya.
By car: Please note that it is highly recommended to take some snow chains with you as very often you can get stuck on the way up. Worst case, you can also buy them on the way up for a higher price.
By Bus: There are also daily trips from Ankara organized by:
BTO Travel. They depart at 5:30am from Buyukhanli Park Hotel on Simon Bolivar Cad. No:32 and they leave Kartalkaya at 17:30 back to Ankara. Ski pass and equipment you have to rent directly in Kartalkaya.
Kayak Tatili also organize day trips and week-end trips to Kartalkaya from Ankara and istanbul
Tur53 also organize day trips to Kartalkaya
Uludağ
(Bursa)
Altitude: from 1770 to 2320 meters
Uludağ
means 'Great Mountain', is only 36 kilometers south of Bursa and has been Turkey's leading ski resort since the sport began in this country and is also the country's most cosmopolitan winter destination among people from Istanbul.
The Uludağ Ski Resort is situated in the Uludağ National Park, declared a National Park in 1961.The area has 15 ski lifts, half of them are T-bars. The total of ski tracks are about 20km long.
You will also have the possibility (if Budget allows) to take a helicopter to the summit of Mount Olympus/Zivre (2543m) and ski one of the most challenging runs
How to get there:

From
Bursa city center
1 hour.
By car from
Istanbul
it will take you approximately 4 hours.
By car from
Izmir
it will take you approximately 4 hours
By car from
Ankara
it can take you 5:30 hours
You can also fly to
Bursa airport (YEI
) then rent a car.
Where to stay:
Click here to see the Weather in Uludağ
.
Palandöken (Erzurum).
Altitude: From 2100 to 3100 meters,
The Ski center is only 7 km south of Erzurum and is among Turkey's most dramatic and challenging ski areas.
Because of its high altitude, the resort is open 3-4 month a year and is known for its light and fine snow, wonderful for skiing.
It's also very nice for off-piste skiing.
They have three chair lifts and a gondola. There are 22 tracks and the longest track being is 12km long!
One of the highest ski areas in Turkey with some of the country's toughest skiing
How to get there
:
You can fly to
Erzurum Airport
(ERZ). Most of the hotels will have a airport transfer to their hotel. it will take 20 minutes.
Where to stay:
Click here to see the Weather in Palandöken
.
---
Sarıkamış (Kars):
Altitude: From 2100 to2630 meters
The Sarıkamış Ski center is located 55km away from Kars or 110km from Erzurum. There is one 844m long teleski facility and two ski houses. In the centre the track length is 1200m.
How to get there
:
You can fly to
Kars airport (KSY
) . From there, some hotels do airport transfer. It will take you one hour.
Where to stay:
Click here to see the Weather in
Sarıkamış.
Erciyes (Kayseri)
: Altitude: From 2215 to 2770 meters.
Mount Erciyes (3916m) the highest summit of Anatolia, and located 25km south of Kayseri. Mount Erciyes is a young extinct volcano.
Many new lifts have been installed, but the strong winds are a big challenge for the resort as very often many lifts have to close down.
How to get there:
From Kayseri city center it will take you 30 minutes to get there, from the
Kayseri Airport (ASR
) it takes 50 minutes
From
Ankara
(GOP area) by car it can take you 4:15 minutes.
Where to stay:
Click here to see the Weather
in Kayseri:
Ilgaz National Park
: Altitude: 2850 meters.
Ilgaz Ski Centre is inside the Ilgaz National Park on the Ilgaz Mountain Range between Çankırı and
Kastamonu
provinces border. Known also in other seasons for its amazing views.
There are 2 tracks in Ilgaz Ski Centre. The chair-lift serving at Track No.1 and a Teleski serving Track No.2 On top of the summit at 2010m, there is the Zirve Cafe. There is also a baby lift.
How to get there:
Ilgaz Ski Centre is 210km north of Ankara on the way to Kastamonu. It will take you about 2:30h from Ankara
Where to stay:
Other areas:
There are some other places where you can go skiing in Turkey, but very often due to lack of snow they remain close for a longer period.
Other places are also just very small.
Just for your information, these are the names of the other Skiing resorts:
Bozdağ Ski center: In Bozdağ town close to Ödemiş (Izmir province)
Kartepe Ski center: It lies in the south east of Kocaeli (Izmit province)
Ağrı Eleşkirt Güneykaya Ski Centre: it lies 6km after passing Eleşkirt county on land route from Ağrı to Erzurum direction.
Ilgaz Ski Centre: It lies in Ilgaz National Park where it is located at 2850m altitude on the Ilgaz Mountain Range between Kastamonu and Çankırı provinces border
Bitlis Ski Centre: It lies in Bitlis city centre- next to Tatvan (Lake Van area)
Elmadağ Ski Centre: (outside Ankara)
Elazığ Sivrice Hazarbaba Ski Centre: It stands at Mount Hazarbaba in Sivrice county.
Zigana Ski Centre is 60km away from Trabzon and 40km from Gümüşhane.
Erzincan Sakaltutan Ski Centre is 45km away from Erzincan
Bingöl Yolçatı Ski Centre is 25km away from the city centre (Bingöl province)