Izmir: Transportation, Real Estate , Travel Agencies, Insurance Companies, Relocation services, Communication
www.madeeasierguides.com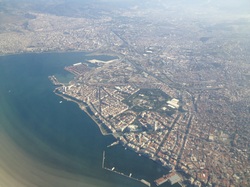 Arriving in Izmir:
Izmir Airport:
The airport in Izmir is called: Adnan Menderes Airport (ADB), It is named after former Turkish prime minister Adnan Menderes. It is a very modern airport, having a new big domestic Terminal opened in September 2014.
Adnan Menderes Airport:
Tel:(0232) 455 0000. The airport is located in the south of the city, approximately 30 min drive to the city center.
There is a 4-storey car park close to the domestic terminal with a capacity of over 2500 cars
Airline companies (flying into Izmir):
To see all the price options of all flight carriers:
Aerobilet
,
Priceline
,
Skyscanner
,
Expedia
,
Darjeelin
.
Main office of Turkish Airlines (THY) is
: Halit Ziya Bulvari No:65, Alsancak. Next to Migros
.
Here you can see the up-to-date departures and take-offs:
From the airport into town
you can use the following ways of transportation:
A) Havaş" Buses
:
The ticket to and from the airport costs 11TL one way (in Dec. 2017). (Between 00:00 and 06:00 am there is a 25% surcharge)
They stop at Gaziosmanpasa Bulvar
ı
, Alsancak, between the Hilton and Swissôtel. They leave every hour, always at half past, starting from 03:30 am until 23:30 pm.
There are also Buses going directly to Karşiaka and also to Kusadası.
To have more information on specific hours and drop off points check:
Havaş Airport Transport
: Tel:(0232) 274 2084 / 274 2276.
The Havas Buses have several routes:
From the airport to Alsancak (Swissôtel, Hilton Hotel, Moevenpick)
From the airport to Karşiaka (EGE park Shopping mall in Mavişehir)
From the airport to Çeşme (Main Çeşme Bus station)
From the airport to Kuşadası
B) Metro/Izban:
Very clean and modern. The Metro takes you to Alsancak where you can change or continue up to Karşiaka-Çiğli-Menemen. They leave approximately every 10 minutes.
C) Public Buses:
The ESHOT Buses have 3 routs:
(Route nos. 200 to Mavisehir, the 202 to Alsancak and the 204 to Bornova)
D) Taxi:
From the airport to the city center (eg: Hilton) it will cost you about 70-80 TL by taxi for the 30-40 min drive
E) Rent a car
: All the rent a car offices are at the domestic terminal. you will find all international brands as well as national ones
Rent a car companies in Izmir:
F) Private Transfer companies:
---
Driving yourself:New Terms Regarding City Traffic Speed Control/ Radar Usage:

Please check the 2016

Trafik Cezalari

(Traffic Charges) for the latest updates (in Turkish only)

>>NEW>> A new speed detection system has become active as of 1 July 2017 on all highways.
If the detected average speed between the Entry toll gate (HGS/OGS) and the Exit gate is higher than the allowed speed limit (120 km/h on Highways), you will get a fine.
Highways:
The roads are generally very good and the highways quite empty. On the Highways (specially the Izmir- Çesme), there is a toll. You cannot pay the toll in cash, you only can use the highway if you have :
1-
"OGS"=
Otomatik Geçiş Sistemi,
(Automatic Passage System) toll transponder only (you must have a toll transponder in your car to pay the toll). Transponders are issued by banks to their account holders." or
2-The
"HGS"=Hizli
Geçiş Sistemi
: Can only be bought at the Post office (PTT). You can buy it in form of a sticker ( 5 TL) or as a card (15TL). Both systems you have to recharge at the post office.
To buy the HGS sticker or card you need to present a photocopy of your passport and a copy of the car papers. Each sticker or card is individually linked to ONE vehicle and not transferable.
>On public holidays, the highways are mainly free of charge.
The speed limits in Turkey are:
- Residential area: 50 Km/h
- Two-way intercity roads: 90 Km/h
- Divided roads: 110 Km/h
- Highways: 120 Km/h
Public Transport in Izmir: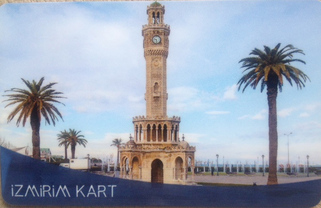 >Journey
Planner:
This website will help you to find out what transport you need to take, live timetable and maps
>
TRAFI
: This website will help you to find out what transport you need to take, live timetable and maps (Also exists in App Form)
>
IZUM:
official Izmir Website for Traffic information and it exist also as an App for public transport information
> Moovit:
This website and App will help you to find out what transport you need to take, live timetable and maps
If you want to use the public transports in Izmir, the easiest way is to buy a IZMIRIM KART.
With the Kart (deposit of 6 TL, then you top up with money) you can use the following transports:
You can buy at any kiosk the Izmirim Kart.
The cost of the transport is:
Basic fare on the Metro is 2.40 TL for adult passengers and 1.35 TL for student passengers and 1.75 TL for teachers if the İzmirimkart is used.
Once you punch/use the card for a trip, the cost is valid for a 90 min trip
>> See at the bottom the map of the Metro
Taxis:
There are two different kind of taxis:
a) the classic yellow ones: The ride starts at 3 TL
b) the white taxis: They drive always the same routes. You can get in and out where you want, pay 3 TL for the ride. This taxis work like a bus, as you share it with other people whoever wants to get in as long as there is a space free in a seat.
Bicycle:
Bisim: Since January 2014, 'Bisim': All around the Izmir Bay you can find Bicycles to rent. 29 stations between Mavişehir and Inciraltı.
Easy to use, easy to ride. You can get a card (5 TL) at the iskele in Konak Pier. You will need to be 18+ years, show I.D. minimum card filling is 10 TL. Usage is 2,60 Tl/hour. 3 Bikes can be rented at the same time with one card. (info: Oct. 2017)
---
Others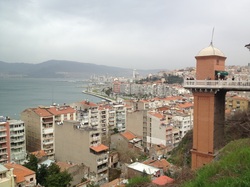 Travel Agencies & Guides:
Daniel tours: Mustafa Münir Birsel Sokak No:24A, Konak. Tel: (0232) 404 6464. Talk to Mrs. Nesrin Ricketts, she speaks perfect English.
Doktoroğlu:Inside the Hitlon Hotel. Tel:(0232) 446 9200. Travel agency, they sell tickets, tours, travel insurance etc.. Çiydem Hanim speaks English.

Aysatur: Gaziosman Pasa Bulv. No:2/E. Alsancak. Tel: (0232) 441 3500. Travel agency, they sell tickets, tours, travel insurance etc

BTO Travel: Talk to the Owner, Osman: (0532) 323 6180. They organize tours all over Turkey, plane and train tickets, hotel reservations, rent-a-car, airport transfers and much more. very well known.

Traveling by Bus:
OBILET
and
Govego
: They provide brokership for bus companies operating in every direction in Turkey.
When you entered the destinations (from/to) and date, it shows you all buses going from and to those destinations you chose on that day.
In addition, it gives you a brief information such as weather forecast, general information of the city, where to go, where to stay, where to eat, what to do, etc., regarding the place that you are going to visit.
---
Moving & Relocation Companies:
To see all the areas of Izmir, please
click HERE
.
Moving Companies:
Asya Nakliyat: very well known professionals. They have offices in Izmir, Ankara, Istanbul and Adana. They come, pack or un-pack. very quick, very professional. Many companies use them
Istanbul Express: They have offices in İstanbul, Ankara, İzmir, Bursa. Very professional. Tel: 444 6502
Relocation & Real Estate companies:
> You can also check at this websites for renting and buying:
www.sahibinden.com
and
www.hurriyetemlak.com
Communication
Cellular phones: (as of 2018)
The network system in Turkey is GSM and there are three local providers:
Turkcell
,
Vodafone
and
Türk Telecom
If you buy your phone outside Turkey and want to use it with a local SIM card here, you have to register it in the first 120 days. The "Registration" process requirements are as follows:
1) You will need to pay a Tax at a Bank
2) Then you have to register your phone (there are two ways)
a) You do it online
b) You go to your provider and they do it for you
Documents you will need (after January 2018):
1) For the Bank: (All İş-Banks can do it) Your original passport, your original residence Permit, your TC Kimlik N*, your phones IMEI number and 171 TL
Turkish Kimlik number for foreigners: Each foreigner with a resident Permit has also a Turkish ID Number. It is composed of 11 numbers, starting by 99. To know your TC Number, CLICK HERE
To find the serial number of your phone (IMEI), type: * # 06 #
2) For the actual phone registration, you can do it in two different ways:
A) Online: First you have to go to the PTT (Post office) and get a code that costs 2 TL. Ask for "E-Devlet Şifresi" Then you register yourself the phone online at:
https://www.turkiye.gov.tr/btk-imei-kaydet
. (Website is only in Turkish) Click on the icon that says: "Kimliğimi Şimdi Doğrula" and enter your TC Number and password that you got at the Post office "PTT".
or
B) You go to the Service provider (Turkcell, Türk Telekom or Vodafone): You need: Your original passport, your original residence Permit, your TC Kimlik N*, your NEW phone to check the IMEI number and the bank receipt that you paid the tax. At the provider, you will have to pay a small registration fee. it can vary between 80 and 150 TL, depending on the provider and branch. At the Turkcell Branch in Semt fevzi Pasa Bulv 123, Alsancak its 85 TL (can change)
> Make sure, all documents are written on the
same person/passport
and that they are written the correct way. Also, the entry stamp in your passport must be less than 60 days old.
NOTE >>
a) Once you register, you will be send an sms and a password. It will then take some time to have the registration completed. You can check at this website (
click HERE
) providing your IMEI Number if it has been completed
b) Please be aware that you can only register one foreign purchased phone every 2 years (per passport)
If you loose your phone, call your provider giving them your IMEI Number. They will block the SIM card and reissue you a new one against a small fee.
You will be then able to have your lost number again.
Main
Turk Telecom:
Main area code numbers: Ankara:
0312
Adana: 0322 Istanbul (Europe): 0212
Antalya: 0242 Istanbul (Asia): 0216
Bursa: 0224 Izmir: 0232
To find all the area codes of Turkey:
click here
TV & Internet:
There are several companies that offer Internet connection. Some of them are:
TT Net
, Digitürk and
Kablonet
(cable). Cell Phone companies also offer portable USB stick with 1 to 4GB per month without the need of signing a permanent contract. Vodafone and Turkcell are the main providers.
Press (in English)
---
Courier:

The Post in Turkey is called

PTT

. There is a big main PTT on Cumhurriyet Place, Alsancak, open Monday to Friday 08:30-17:00. Other smaller branches open also on Saturdays 08:30-12:00. You can send letters & parcels in normal service or express mail (EMS). They also have the option of recommended letters and parcels and they also do kargo of bigger parcels.

To see where the closest PTT office is from you,

click HERE


To send items international via private courier service, use TNT, Tel: 444 0868 or DHL, Tel: 444 0040.

To send items inside Turkey, use

Yurtiçi Kargo

, Tel.: 444 0606
Other important numbers and Webpages to have: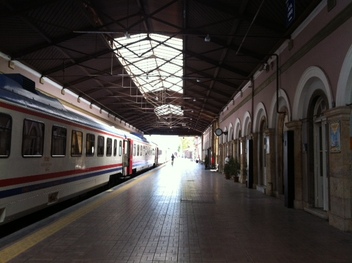 Turkish Maritime Lines: Tel:(0232) 441 4646,
Turkish Railways: Reservation: Tel:(0232) 4845353, 464 3131
State Railways Basmane Train Station: Tel:(0232) 484 8638
State Railways Alsancak Train Station: Tel:(0232) 464 7795
Izmir Harbor: Tel:(0232) 463 1600
Konak Ferry Pier: Tel:(0232) 484 9856
Karsiyaka Ferry Pier: Tel:(0232) 368 0042

Izmir Metro: works from 06:00am to 00:20. there are approximately every 4-5 minutes a metro passing.

Touring and Automobil club of Turkey: Ali Çetinkaya Bulv. Akkaya Apt No:31/2, Alsancak. Tel: (0232) 421 7149
---