Traveling inside Turkey
www.madeeasierguides.com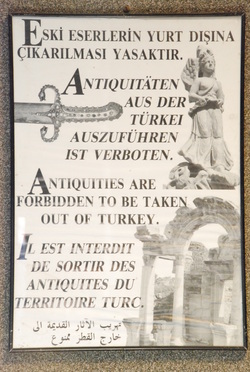 UNESCO World Heritage sites mentioned in this website:
Click HERE to see all places mentioned in this website in alphabetical order.How to get around Turkey: Traveling by plane:There are many local airlines in Turkey, all with a good reputation:
>> To see all the price options of all flight carriers:
Aerobilet
,
Priceline
,
Skyscanner
,
Expedia
,
Darjeelin
.
Click on the airport name to see the up-to-date departures and take-offs:
Traveling by car:
The roads are generally very good and the highways quite empty. On the Highways (specially the Ankara-Istanbul), there is a toll. You cannot pay the toll in cash, you only can use the highway if you have :
1-
"OGS"=Otomatik Geçiş Sistemi
, (Automatic Passage System) toll transponder only (you must have a toll transponder in your car to pay the toll). Transponders are issued by banks to their account holders." or
2-The
"HGS"=Hizli
Geçiş Sistemi:
Can only be bought at the Post office ( PTT ). You can buy it in form of a sticker (5 TL) or as a card (15TL). Both systems you have to recharge at the post office.
To buy the HGS sticker or card you need to present a photocopy of your passport and a copy of the car papers. Each sticker or card is individually linked to ONE vehicle and not transferable. For more information (only in Turkish) :
HGS.
>On public holidays, the highways are mainly free of charge.
Traveling by bus:
There are very good bus services in Turkey that connect the major big cities. They are comfortable, clean.
Aşti: Tel: (0312) 207 10 00 (Main Bus Terminal in Ankara)
Esenler Altıntepsi Mh., Tel: (0212) 658 0505 ( Main Bus terminal Istanbul)
The main Bus companies are:
OBILET and Govego:
They provide brokership for bus companies operating in every direction in Turkey.
When you entered the destinations (from/to) and date, it shows you all buses going from and to those destinations you chose on that day.
In addition, it gives you a brief information such as weather forecast, general information of the city, where to go, where to stay, where to eat, what to do, etc., regarding the place that you are going to visit.
Traveling by train
:
Official website:
Turkish State Railways
,
High Speed train tickets
To see the cities in Alphabetical order,
click HERE
Click on the name below to have more information of the following places:
---