Şanlıurfa, Harran, Halfeti, Gaziantep

Şanlıurfa:
www.madeeasierguides.com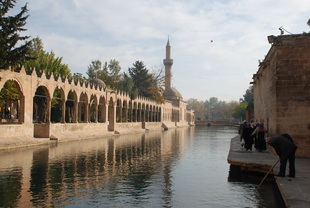 Şanlıurfa: (Also known as "Urfa")
Urfa became Şanlıurfa (Glorious Urfa) in 1984
Şanlıurfa GAP Airport
is in Gölgen, 35km northeast of the city on the Road to Diyarbakir.
The airport code is: GNY. Tel: (0414) 378 1111
Where to sleep:
Where to eat:
Cevahir Konukevi, Tel: (0414) 2159377 . Very nice place where you eat well, but they do not sell alcohol.
Çift Magara: Çift Kubbe Alti Balikligöl. Nice Terrace with good view
Gülhan Restaurant: on Atatürk Caddesi. Known for its şıllık (dessert)
Urfa's culinary specialities: Çig köfte, Urfa Kebab and şıllık.
Something special from there: Buy a nice Pomegranate syrup at
Punica-Sadece Nar
:
Karaman Mah. Eyyubiye,
Şanlıurfa.
Tel: (0532) 616 99 22
What to See:
The Balikli Göl
The Bazaar and walk up to the fortress,
The Rizvaniye Vakfi Camii & Medresesi and the Halilur Rahman Camii
The Şanlıurfa museum (closed on mondays)
Walk around the Urfa's backstreets and look at the old houses build out of limestone.
Güzel Sanatlar Galerisi: The courtyard is very nice of this Gallery (closed on sundays)
Il Özel idaresi Kültür ve sanat Merkezi: very nice restored house (it used to be a church)
Shopping Malls:
Forum Gaziantep: İstasyon cd. Yaprak Mah. No:76 Şehitkamil
Prime Mall: Osmangazi Mah. Prof.Dr.Necmettin Erbakan cad. 33.sokak No:71 Şehitkamil
---
Harran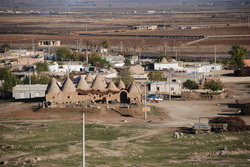 Harran is south of Urfa, close to the Syrian boarder. Go and see the Beehive Houses and the castle
---


Halfeti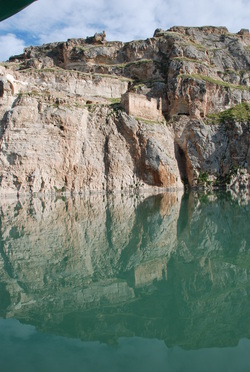 Between Şanlıurfa and Gaziantep, stop in Halfeti (north of Birecik).

Next to the big lake there is the Duba Restaurant with nice fish. From there, take a boat to see Rumkale, very nice fortress. It will take you 40 min to do the round trip, worthwhile !


---
Gaziantep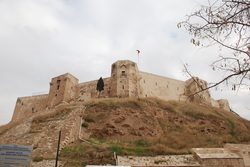 Gaziantep ( Also known as "Antep")
Heroic Antep became Gaziantep in 1973. The epithet 'Gazi' (War Hero) was added to Antep to pay homage to their tenacious defense in 1920.
Gaziantep is known for its
fıstık
(pistachio). They produce best pistachio baklava- a must eat while there.
Walk around also in the
Bey neighbourhood, known for the historical houses and architecture.
Don't miss having a coffee in the historical Tahmis Coffeehouse, situated in the middle of the bazaar
Gaziantep Oğuzeli International Airport
is 20 km far from the city. The code is: GZT. Tel: (0342) 582 1111
Where to sleep:
Where to eat:
Imam Cağdas, with very very local food. They sell a good baklava as the city is known for its pistachios. No alcohol
Sahan: Sira Hani. Home made food. They sell alcohol
Yörem Mutfağı: Incilipınar Mah. 3, Sokak 15. Nice for lunch
Big Chefs; inside the Sanko Park Shopping Center. Fevzi Çakmak Bul Zemin Kat No:37/38
Şehitkamil. Tel: (0342) 3391900
Baro Lokali: Outdoor terrace in the 100.Yıl Atatürk Parkı.Nice mezzes and meat dishes and they serve rakı, beer or wine
What to see:
The castle (Kale) and inside is the Gaziantep Defence and Heroism panoramic Museum
Saklı Konak Copperware Museum: Close to the Castle.
The Archeological Museum and the new mosaic museum, Zeugma, featuring more than 2500square-meter mosaic, a must to see !
Bakircilar Carşisi. A huge bazaar area. Look for the Zincirli Bedesten (Coppersmiths' Market). Walk around there and discover the food and spice markets. Don't worry if you get lost, you will always find a way out.
Gaziantep Kent Müzesi (City Museum) on Atatürk Bulvari
The Emine Gögüş Culinary Museum on Köprübaşi Sokak
The Game and Toy Museum: Situated in Bey Mahallesi. The 'Bey neighborhood' is one of Gaziantep's historical districts

Medusa Glassware Museum: In the Şakir Street in the Seferpaşa neighborhood

Planetarium and Science Center: The first one of Turkey. It is situated in the 100. Yıl Atatürk Culture Park.
Parkantep World of Wonders: Amusement park
The Zoo: In the Burç Forest.
Travel Agency:
BTO Travel: Talk to the Owner, Osman: (0532) 323 6180 or Mrs Deniz, Cell: (0530) 764 0262. She speaks English and German. Email: dgozden@btotravel.com. They organize tours all over Turkey, plane and train tickets, hotel reservations, rent-a-car, airport transfers and much more. very well known.
Health:
Medical Park Hospital
: Mücahitler Mah. 52063 Nolu Sok. No:2 Şehitkamil Gaziantep. Tel: (0342) 211 16 00
---