Ankara: Pastry Shops, Coffee Houses, Bakeries & Chocolates
www.madeeasierguides.com
Pastry shops (Pastane) & coffee houses:
BonApple: Bestekar Sok.No:39/A Kavaklıdere. Tel: (0312) 466 8086
Liva: İstanbul Yolu 7.Km Erciyes İşyerleri Sitesi 9.Cadde No:1 Macunköy. Tel: (0312) 397 8430
Lungo Espresso Bar: Tunalı Hilmi Caddesi, Bülten Sokak No:26. Tel: (0312) 428 4414. Great small place for a coffee
Kahve Dünyası: They have several in Town. Some known ones are in: İran Cad. No:7, Çankaya ; In Büyükesat Mah. Uğur Mumcu Cad. No:71, Çankaya or in some Shoppingmalls like 365 AVM and optimum AVM
Mado: This is also a chain with several in Town. Check the website to find the nearest to you.
Cafe des cafes: Tunali Hilmi Cad. 83A. Kavaklidere. Tel: (0312) 428 0176
Arabica Coffee House: Eskişehir Yolu Dumlupınar Bulvarı No:266/ C-04.Tepe Prime İş Ve Yaşam Merkezi Çankaya. Tel: (0312) 284 0199

Ekşi Maya: Tunalı Hilmi Caddesi-Güniz Sokak no:42, Çankaya. Tel: (0312) 457 4043. They also have salads, sandwiches and more.


Bakeries:
Diana's Backhaus: 1943.Cad,1955.Sok,No 2 , Ümitköy. (Street behind the Galleria) Tel: (0312) 236 4630 or (0532) 376 4656. Diana is Austrian living in Ankara for more than 20 years. they do Biscottis, pekmezli, Ciabattas, etc... Delicious !!
Semotti's Bakery: Cinnah Caddesi 49/1.
Çankaya . Tel:(0533) 493 0821. They do very creative and special themed cakes for all occasions. They can also do gluten-free and dairy-free cakes
Chocolates:
In all the pastry Shops you can find nice Chocolate boxes to buy for gifts, but very good ones you can find at:
Le Chocolatier d'Orient:
Uğur Mumcu Cad. No: 65/B, G.O.P. Tel: (0312) 447 4022. In front of the Migros. They have delicious chocolates
Patiswiss:
Birlik Mah. 450. Cad. 28/A-B Çankaya, and also in Cepa Shopping mall. Tel: (0312) 495 0525
Vakko Chocolatier:
They have their shop in the Lobby of the Hilton Hotel, Tahran cad. 12, Kavaklidere.
The Chocolate Art:
Cinnah Cad. 52. Kavaklidere. Tel: (0312) 440 4079 or (0532) 267 4614. Pure Belgium chocolates.Try the one with lavender ! only sold to women.
..Godiva:
Kizilirmak mah. Dumlupınar Bulvarı No:3, Söğütözü. Tel: (0312) 210 1735 - 36
or inside the Panora Shopping Mall: Tel: 491 1419
---
Turkish Coffee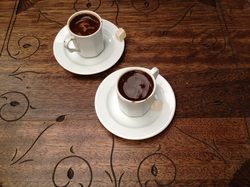 Turkish Coffee:

The roasted coffee beans are very finely grinded. It is prepared in a small pot called cezve, In the cezve, first put the cold water and sugar, then add the coffee and boil it. It is then served in a cup, but allow it to settle a little bit before drinking.
In some places when you finish drinking your coffee, place your saucer on top of the cup, then turn it around and let it cool. Don't forget to make a wish before turning! A fortune teller will then be able to read your coffee and...your future...
When you order a Turkish coffee, you will be asked in advance how much suger you want in it. You can have it: Sade (no sugar), Orta şekerli (medium sweet) or çok şekerli (very sweet).

---