Mardin, Midyat, Mor Gabriel & Hasankeyf

Mardin:
www.madeeasierguides.com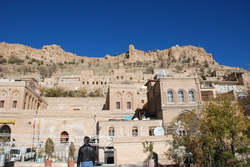 Mardin:
Mardin is a very special city. It is on a Hill overlooking the Mesopotamian plains. Due to its geographical situation, it's a fascinating culture mix. (Kurdish, Syrian, Christian cultures)
How to get there:
Mardin Airpor
t is located in Kızıltepe, 20 kilometres southeast from Mardin. Its code is: MQM.
Where to stay:
Hilton Garden Inn: Tel: (0482) 212 3224. Yenisehir Mah. Ravza Cad. They have nice views from the Terrace.
Artuklu Kervansarayi: Boutique hotel, mediaval style, but no views.
Erdoba Konakları , Tel: : (0482) 213 7787. Boutique Hotel with nice small rooms in the city centre, but for dinner you better go out:

Where to eat:
Cercis Murat Konağı, In the city center, Cumhuriyet Cad. Tel: (0482) 213 6841. Restaurant only. Very nice food and they also sell wine & beer.
Kamer Vakif: In the city center, Cumhuriyet Cad. Operated by the 'Moon Foundation' (in support of women-victims of domestic violence). Different women cook there very authentic special food from the region, very good!

What to see:
Sabanci Museum. Open from 8:00 to 17:00, except Mondays

Mardin Museum. Open from 8:00 to 17:00. In summer months up to 18:30, except Mondays

Zinciriye (Sultan İsa) Medresesi. Medrese Mh. Build in 1385, the complex's highlight is the amazing doorway, but don't forget to walk through the nice courtyards and onto the roof to enjoy the cityscape. Don't miss going to the tea garden and sit there to enjoy a great view of Mardin.

The Bazaar

The Ulu and the Latifiye Camii

The Forty Martyrs Church

St. Josef Church,
Mardin Castle

On the outskirts of Mardin there is the
Syriac Orthodox Monastery of Deir az-Za'faran. It lies some 5 km south-east of Mardin.
Founded in the 5th century, the monastery's main church dates from the 6th century.
---
Midyat, Mor Gabriel & Hasankeyf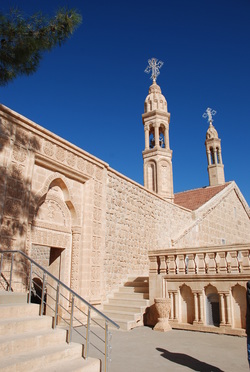 In Midyat
(about 65km east of Mardin)
Kasr-i Nehroz Hotel
: Tel: (0482) 4642525 in Midyat. Old house completly restaured very nice! Very clean rooms, wireless everywhere and they have a nice restaurant where they also sell wine.
There are nine Syrian Orthodox churches in town.
20km South-East of Midyat, go and see the Mor Gabriel Monastery (see picture), very interesting.
30km North-East of Midyat is the Anıtlı Village. Go and see the Mor Sobo Cathedral and the Virgin Mary Chrurch.
40km north of Midyat there is Hasankeyf, an ancient town located along the Tigris River, a must-see if you are there. One day (soon) Hasankeyf will be flooded with the completion of the Ilisu Dam, so don't miss visiting it while there.
Places to see in Hasankeyf:
Old bridge. Built in 1116

Citadel. Built 100m above the river with amazing views
Small Palace and great Palace

Ulu Mosque. Built in 1325

El Rizk Mosque. Built in 1409

Imam Abdullah Tomb

Zeynel Bey Mausoleum
Note:
As of July 2012 the main citadel has been closed to public
In May 2017: The tomb has been removed and will be displayed in one Museum (tbd)
---