Ephesus, Meryemana, Şirince, Claros, Priene-Miletus-Didyma
www.madeeasierguides.com
What to see in and around Ephesus:
The Ephesus ancient city

The Terrace Houses inside the Ephesus ancient city

The Temple of Artemis
The grotto of Seven Sleepers (ruins). On the Road between the upper and lower gate of Ephesus
Meryemana - House of the Virgin Mary

St. Jean Monument and the Selçuk Fortress
Open Air Steam Train Museum in Çamlik
Şirince Village is an old orthodox village at the entrance of Ephesus on top of the Hill. Aprox. 11 km up the mountain .Worthwhile a detour and have coffee or lunch there.You will find lots of places to have coffee or lunch, many souvenir shops and the ruins of the old St. John church (closed for renovation until January 2016) .
Ephesus Archaeological Museum in the city of Selcuk
> Note:
At the bottom of this page you can see a Picture slideshow
Ephesus ancient city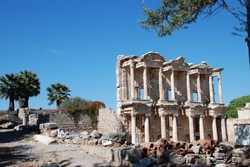 Ephesus, Selçuk
(60km from Izmir airport)
The best times to see the Ephesus ancient city are early morning or late afternoon. In the summer months (April to October) is the most crowded period and it can be very warm.
It is open from 08:30 am to 19:00h. In the winter months only until 17:00h.
There are two gates. The upper gate (recommended to start) is on the way to the House of Virgin Mary and the lower gate. If you drive your own car, remember that you will need to go out the same gate as there is no transport between the two gates, but there are Taxis at the lower gate that can drive you back to the upper gate.
Note: >
Important in the warm summer days: There is no possibility to buy water or any other item inside the site, so remember to take all you need. Drinks, food, souvenirs, toilets etc are only available at the two main gates.
You can use the
Müze card
to enter. There are several options of
Müze card
, so check which one is more convenient for you. It can be purchased at the entrance.
Inside the Ephesus ancient city there are Terrace Houses. You will need to pay an extra fee to enter, but its worthwhile! Amazing Frescos/ wall paintings to see.
Guides for Ephesus:
If you do not want to hire a personal Guide, you can also rent an
'Audio Guide'
for 20 TL at the entrance.
Wheelchair:
If you want/need a wheelchair you can rent one at:
ABC Grup
. They are in Selçuk. Tel: (0232) 892 2500.
If you call and organize it in advance they will wait for you with the chair at the entrance you want. Note that there is no wheelchair path through Ephesus, so there are some places where the person using it, maybe should be able to walk for 3-6 meters from time to time.
How to get to Ephesus:
If you do not have a car or go by bus, there is also the option going by train from Izmir:
There are 5 trains daily going from Izmir city center (Basmane Station via the airport to Selçuk). For exact information check the
Turkish State Railways
---
Where to stay:
In Kuşadası ( about 18km from Ephesus at the sea-side)
Where to eat:
Meryemana (The House of Virgin Mary)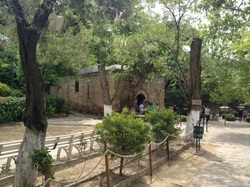 The House of the Virgin Mary is located 9km up the mountain- driving pass the upper gate entrance of
Ephesus
) It is said that the Virgin Mary came with St. John in her last years of her life to Ephesus.
Paul VI was the first pope to visit this place in the 1960's. Later, in the 1980's, during his visit, Pope John-Paul II declared the Shrine of Virgin Mary has a pilgrimage place for Christians and in November 2006, Pope Benedict XVI visited the House, stayed overnight there and celebrated a mass.
A mass is celebrated there every Sunday at 10:30am.
To find out all catholic churches in Turkey,
click HERE
In summer times it can be very crowded, so if you have your own car, try to go early in the morning or in the late evening. You will be able to see the chapel in a quiet atmosphere and below the chapel there is the 'wishing wall' where people tie small pieces of paper (or cloth) to make a wish.
It is open from 8am until 7pm. In winter months only until 4:30pm.
At the entrance you will find the 'Cafe Turca' for refreshments, a post office and several stands with books, souvenirs and information.
---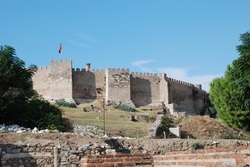 St. Jean Monument and the Selçuk Fortress
The Fortress situated on the highest point of the hill, just on the opposite site from where the Road to Şirince goes. You can visit the inside and walk up to the citadel.
The is an entrance fee but can also be enter with the
Müze kart.
---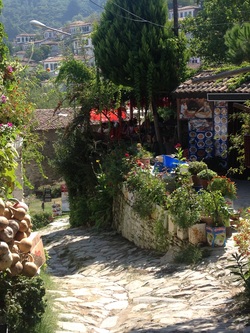 Şirince Village:
Once a Greek village, Şirince has an unique architecture and breathtaking views on top of the mountain, only 8km away from Ephesus main entrance.
This small village of about 600 inhabitants is a very popular place to be and stop on your Ephesus tour. The streets are full of small shops like a market, small coffee places and great views. Don't miss going if you are around the area.
Şirince is known for its restored Houses and its Fruit Wines, (varieties include Peach wine, Kiwi and Melon, Strawberry, Blackberry and Cherry)
Wear good shoes and walk up and down the village through their small streets, its a paradise for photographers, but not very suitable for people who have walking difficulties.
While there, do taste some of their fruit wines or have lunch at the
Artemis Restaurant
, situated at the entrance of the village; buy their known hand-made olive oil soaps, visit St Johns church ( closed due to renovations until January 2016) and have a nice Gözleme at Cici Şirince Mutfağı
Where to stay:Where to eat:
Here some more pictures of Şirince:
---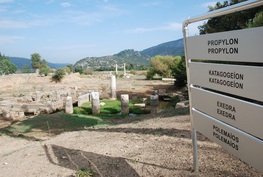 Claros
Claros Antik Kenti was an ancient Greek sanctuary. It contained a temple and oracle of Apollo. Information about this place goes back to the 6th and 7th centuries BC. The ruins of the sanctuary are only 50km south of Izmir and worthwhile a visit. Entrance fee is 5 TL or you can enter with the Müze kart. If you go in the summer months, you will be able to see the archeologists work.

From Claros to Selçuk it's only 22km away. Its worthwhile if you have time to go and see it and enjoy the landscape driving there

---
Priene - Miletus - Didyma
You can easily do the three sites in one day. If you start from Kusadasi or Selçuk :
Drive south 35 km from Selçuk or southeast 20 km from Kuşadası to
Söke
, then follow signs for
Güllübahçe
(10 km) and
Priene
, one km farther along.At the entrance of Priene you can find several restaurants or places where you can buy something to eat or drink if you wish.
After your visit to Priene, drive 22 km to
Miletus.
(Note that there is only one small place at the entrance to buy refreshments)
From Miletus, go 5 km south to
Akköy on
the newer highway to the west. South of
Akköy
, follow signs for
Yenihisar
(Didim/Didyma), driving 14 km to its gigantic oracular
Temple of Apollo
. At the entrance you will find also here several restaurants, coffee houses and more.
If you want to rest or relax at a Beach later, go to
Altınkum Beach
, 4 km south of Didyma. The Beach is very busy in summer with lots of Restaurants and bars around.
from Didyma to Selçuk is about 90km.
Guides:
Nazim Uzun: Cell: 0535 263 7500. He is a private & Driver Guide and speaks well english.he also can do Tours for Izmir city, Pamukkale and Afrodisias and Priene-Miletus-Didyma.