Cappadocia - Nevşehir & Kayseri
www.madeeasierguides.com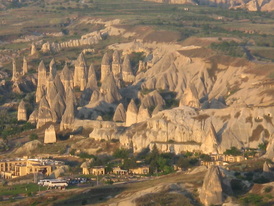 Cappadocia
: a must place to see.
The region of Cappadocia lies in Anatolia, what is now the middle of Turkey. It is on a high plateau over 1000 m high and is a very popular tourist destination, as it has many areas with unique geological, historic, and cultural features.After the eruption of
Mount Erciyes
about 2,000 years ago, ash and lava formed soft rocks, covering a region of about 20,000 km2. The softer rock was eroded by wind and water, leaving the hard cap rock on top of pillars, forming the present-day fairy chimneys.
Cappadocia is famous for its fairy chimneys, cave Hotels and the underground cities.
> Göreme National Park and the Rock Sites of Cappadocia are part of the UNESCO World Heritage list since 1985
Getting there:
The closest airport to the main attractions is in
Nevşehir
(NAV)
.
Turkish Airlines
flys into it. The airport is located about 45 minutes from Göreme or 40 min from Uçhisar
Kayseri:
Kayseri Airport (ASR
), will take you 1:30 hours approximately to Göreme/Cappadocia, but many national and International flights fly to this airport.
Driving from Ankara, it will take you about 3 hours.
Kayseri is a large Industrial city in central Anatolia. The city lies next to the extinct volcano of Mount Erciyes. Mount Erciyes is a
skiing resort
in Winter and a nice
trekking mountain
in summer months.
Places to stay:
Hilton Kayseri: Cumhuriyet, İstasyon Cd. No:1, Kocasinan. Tel:(0352) 207 5000. In the city center.
What to buy
: Pastirma! The best Pastirma comes from kayseri. here are two places where they sell the best:
Somtaş Pastırma:Gevher Nesibe Mah. Tekin Sok. No:1/A (next to the Hilton Hotel). Tel: (0352) 222 60 30
Şahin Pastırma: Oruç Reis Mah. Karpuzatan Cad. No: 89. Tel: 444 13 71 or one minute from the airport away where there is also a restaurant called Beyaz Saray: Mustafa Kemal Pasa Bulv. No.300. Tel: (0352) 339 1313 (They also sell online and deliver)
Cappadocia
Weather in Cappadocia:
click here
.
Museums card: We recommend you to buy a Museums card if you want to visit more than one place.
Click here
for more information
The main attractions in Cappadocia are in the following cities:
Ürgüp, Uçhisar, Göreme, Avanos, Derinkuyu.
Cappadocia is also famous for its cave hotels and the valleys for trekking
In general, what you should not miss while visiting Cappadocia:
The Göreme open Air Museum
The citadel of Uçhisar,
Love Valley with its fairy chimneys (outside Göreme)
The old Zelve Village and Museum (between Avanos and Çavusin)
Çavusin village
Seramik factories and the Güray Museum in Avanos
Carpet factories to see how they are done
A trip on a Hot air Balloon
Visit an underground city
and 45 minutes drive out of Nevsehir and really worthwhile going:
Ihlara Valley
Selime Monastry
Where to find what
:
In Ürgüp:
Ürgüp is a small market town that can be a very good base to explore the area. This town is known for its nice hotels and very good restaurants. On Saturday they have an open market day.
What to see and do:
Turasan Wine cellars: Çimenli Mevkii. Tel: (0384) 341 49 61. Open from 8am to 8pm. You can taste (and buy) their Cappadocian wines there.
SilkRoad carpet Shop: Kayseri Caddesi N° 30. Tel : (0384) 341 41 26. Rugs and Kilims.
Asmali Konak: Ürgüp, Tel:(0384) 341 8930. Old Greek House and art Museum.
Where to sleepWhere to eat:
Şömine: Cumhuriyet Meydanı, 9 Tel: (384) 341 8442 . Famous for its Testi Kebab (Lamb cooked inside the terracota pot). Worthwhile a try!
Ziggy's Cafe & Restaurant: Yunak Mah., Tevfik Fikret Caddesi No. 24 Tel: (384) 324 7107. European cuisine. Very Nice food and great ambience. They have also a beautiful terrace for the long summer nights where you can enjoy the Food & View
Cappadocia Home Cooking: Ayvalı Köyü. Ürgüp. Tel: (0384) 354 5907. 10km away from Ürgüp. You can have traditional lunch or dinner here and they also do cooking classes.
Others:
Mustafapaşa
:
This town is only 4km away from Ürgüp and is worthwhile visiting it. In the Seljuk and early ottoman period this town was called "Sinasos" where mainly Byzantine greeks and christians lived. At he time they were allowed to build their churches and until today some of them are still there and can be visited. ( 25 churches in total) . There are also some valleys that you can explore from there. ( Monastry and Beydere Valley)
In Üçhisar/ Nevşehir:
Uçhisar is famous for its rock-citadel. If you walk up there, you will have the most amazing views over Cappadocia and even see Mont Erciyes ! This very hilly town is known for its luxury hotels, but quiet in the evening as there are no bars or nightclubs here
What to do and buy
Uçhisar castle: Open from 8am to 8pm. Great if you go at sunset to overlook the beautiful valleys.
Pigeon Valley
: It connects Uçhisar with Göreme
White Valley:
It connects Uçhisar to Çavusin
Where to sleepWhere to eat:
Restaurant: Elai: Tel: (0384) 219 3181. Very good. They also have a nice terrace with beautiful views

If you drive from Üçisar to Göreme, between the two cities there is a big restaurant on top of the cliff with amazing views. Look for a big wooden sign that says "o ağacın altı" (under that tree). If you have time, have a stop, drink a (delicious) Turkish coffee and enjoy the view!! Many tourist buses stop there.. they know why
In Ortahisar:
Where to sleep:
Elaa Cave Hotel: Esentepe Mahallesi Tahir Bey Sokak No:4, Ortahisar. Tel: (0384) 343 225. In a traditionally restored Anatolian home.
We recommend:
---
In Göreme:
Göreme is located in the heart of some beautiful valleys and is surrounded by the famous rock-formations that made Cappadocia world famous.
The city if full of live and you will find there lots of hotels, restaurants, bars, travel agencies, hot air-balloon companies and more. From here you are in walking distance to many attractions, specially the Open-Air Museum is a must.
What to do and buy:
Göreme Open-Air Museum. Open from 8am to 5pm.This museum is one of Turkey's World Heritage sites. very nice!
Valleys:
Love Valley : Don't miss seeing it. It starts west of the Göreme Open-Air Museum (About 2km long)
Pigeon Valley: It connects Göreme with Uçhisar (About 4km long)
Rose Valley: Located between Göreme and Cavusin villages, and it is divided into many smaller valleys: Gulludere, Kizilcukur, Meskendir and Zindanonu valleys. (About 3,5km long)
Honey Valley: From Göreme/Cavusin Road to Uçhisar.(About 5km long)
Where to sleep:Where to eat:
A'la Turca. Gaferli Mahallesi N°20. Tel: (0384) 271 2882. Very nice food and good terrace. (Cuisine from Anatolia)
Seten Restaurant: Aydinli Mah. Aydinli Sok. No:40. Tel: (0384) 271 3025. Cuisine from Anatolia.
Orient: Tel: (0384) 271 2346. Very nice food from the region

Anatolian Kitchen Restoran: Müze Cd. Tel: (0384) 271 2740

Topdeck Cave Restaurant: Hafiz Abdullah Efendi Sokak No 15. Tel:(0384) 271 2474. Traditional Turkish cuisine
Kale Terrasse Restaurant: Roma Kalesi Yanı, Müze Cad, Tel: (0384) 271 2808. Authentic Turkish cuisine
Cappadocian Cuisine: Uzundere Caddesi NO:2. Cell: (0536) 964 6225. Traditional Turkish cuisine
Pumpkin: Sali Mah. iceri Dere Sok. 7/A. cell: (0542) 808 5050
In Avanos:
Avanos is a very quiet town, mainly known for its pottery and ceramic shops. On Fridays they have a busy covered market in town.
What to do and buy:
Galerie Yörük: Ali Fuat. Yukari Mah. No.31. Tel: (0384) 511 4020. Good quality/price for Kilims and Rugs.They speak English and French.

Avanos Halı: Kızılırmak Cad. No: 8 Avanos. Tel: (0384) 511 3333. A huge workshop and showroom for Carpets. Very interesting to visit.
Between Çavusin and Avanos: there is the Zelve Open-Air Museum.
Where to sleep
Doubletree Hotel. Tel.: (0384) 511 4317. Good for bigger groups. They have also a big swimming pool.

Where to eat
Uranos & Sarikaya: Akbel Mevkii, Kopru Basi No:88, Avanos, Tel: (0384) 511 5655. The place is entirely carved into the stone and has also some evening entertainment. Also good for bigger groups.

Benzade Konak Kafe: Yukari Mahalle, Edip Akbayram Sokak, No:7, Avanos. Not fancy, but delicious home made Food
Sofra: Merkez cadde, Avanos. Known for its Testi kebab.
Akhal Teke: Tel: (0384) 511 5775. Children can go riding there, very nice place and in its Restaurant they serve very good Testi kebab

Hot air balloons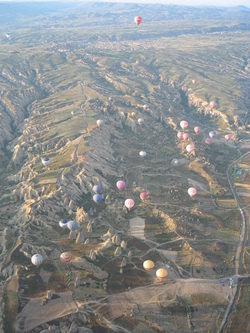 Hot air balloons in Cappadocia:
To fly with an hot air balloon over Cappadocia is a very spectacular thing to do. You can ask your hotel to organise it, otherwise, the best three companies that organise it are:
---
Underground cities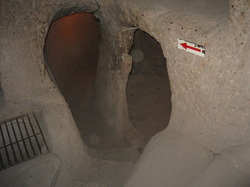 There are 36 underground cities in Cappadocia. The most known ones are:
Derinkuyu (the deepest), Kaymakli (the widest), Saratli (less known but nice)
If you have the
Museums Card
you can enter the following sites:
The underground cities of Derinkuyu, Kaymakli and Özkonak, the Göreme Open Air Museum and the Zelve Archeological Site.
---