Safranbolu, Amasra
www.madeeasierguides.com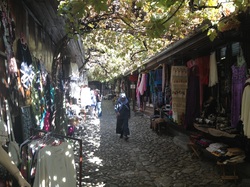 Safranbolu:
Safranbolu is very nice Ottoman town in the province of Karabük. Only 2:30 drive north from Ankara (about 200km). The name of Safranbolu comes from "saffron" and still until today saffron is grown in the area and you will be able to find shops that sells it.
Since 1994, Safranbolu is in the list of UNESCO World Heritage sites due to its well-preserved Ottoman era houses and architecture.The Old Town has many old buildings, with over 1000 registered historical artifacts. One private museum, mosques, tombs, fountains, Turkish baths, three caravanserais,one clock tower, and hundreds of houses and mansions.
Safranbolu is a great place to go for the week-end. You can even do a day trip to Amasra from here ( about 1:30 drive) or closer: Don't miss going to Yörük village, 11km away from there- The town where Leyla Gencers father is from ( She was the most famous Turkish Opera singer also called " The Turkish Diva".
>>All numbers indicated here are local numbers. if you call from outside Turkey, please dial
+90
before the number
To sleep:
Gül Evi Safranbolu. Hükümet Sokak 46 Tel: (0370) 725 4645 or cell phone: (0530) 243 0045 .A very nice boutique Hotel in the historical center with very nice rooms and gardens. This place is a hidden treasure !!
Raşitler Bağ Evi: Baglarbasi Mah. Degirmenbasi Sok. No:65, Safranbolu/Karabük. Tel: (0370) 725 1345. This is an old ottoman House newly restored. Nice gardens.
Havuzlu Asmazlar Konağı: Tel: (0370) 725 2883 . At the entrance of the town. Old house completely restaured with a courtyard and garden. Nice Hotel and restaurant where they also sell wine.
Park Hotel & Suites Safronbolu, Baglarbasi Mahalessi .Aslanlar Sokak No. 27. Tel: (0930) 712 8088
Aykut Donmez, the manager: Cell: 90532) 303 3033. Pretty Safronbolu hotel in quiet neighborhood. Breakfast included, inexpensive rates.

Hilton Garden Inn: Yenimahalle, Halkevi Sokak No:12, Safranbolu, Tel: (0370) 419 1130. They also have an outdoor pool
To eat:
Çevrikköprü : Tel: (370) 7254233. Restaurant with terrace. They also serve wine
Gülin Restaurant: Sadri Artunç Cad. No: 53. Tel: (0370) 712 0333. Nice food, specially the grilled steaks and Fish.. and desserts!
To buy:
Imren Lokumları: İnönü Mah. Karabük Cad. No:4 Safranbolu. Tel: (0370) 712 7733. They sell very good Lokums (Turkish delight)

To see:
Walk around the town and look at all the Ottoman houses, the Kaymakamlar Müze Evi, the main Mosque and have a real good Turkish coffee in one of the coffee places.
The main attractions are: Historical Markets, Saddle Makers' Market, Blacksmiths' Markets, Kaymakamlar Open House, Hıdırlık Hill Look Out, Drygoods' Markets, Kileciler Open House, Cinci Inn, Köprülü Mehmet Paşa Mosque and Sundial, Shoe makers' Bazaar, Castle, Old Government Mansion, Watch Tower, Yoruk Village, Sipahioglu Mansion, Public Laundry, Bottomless Lake, In the Vinyards Region:, Historic Incekaya Aqueduct, Degirmenbasi Water Mill, Bulak (Mencilis) Cave, The Mansion of Emir Hocazade Ahmet Beyler, Tokatlı Canyon
Don't miss seeing the
Kristal Terrace
in the Incekaya canyon. Amazing views !
We recommend:
(click on the Logo and it will direct you to their webpage)
---

Amasra: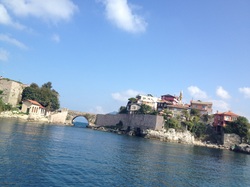 Amasra (Black Sea):
Very nice place for a short week-end.If you drive from Ankara, stop in Safranbolu for lunch. If you stay in Safranbolu, don't miss doing a day trip here.
To sleep:
Emin Apart Pansiyon: Tel: (0378) 315 1676, In the centre and closet o the Beach. They only have 3 rooms and 2 apartments
Büyük Liman Oteli: Tel: (0378) 315 3900, Very nice view on the beach where you can everything by food. You need to reserve in advance.
Northdoor Hotel: Tel: (0378) 201 0012. They also have a swimming pool.



To eat:
Çesm-i Cihan restaurant: Büyük Liman Cad. No:21. Tel: (0378) 315 1062. Very good restaurant, famous for its salads and fish.
Canli Balik: Küçük Liman Cad. No: 8. Tel: (0378) 315 2606. They have a nice terrace for sunny days.
Lutfiye: Kum Mah. Küçük Liman Cad. No: 20/A. Tel: (0378) 315 3222. Small little place to have breakfast or coffe whre they do their own Jams and more.

To see:
Walk around the city and do not miss doing a boat tour.
---