Kars & Ani
www.madeeasierguides.com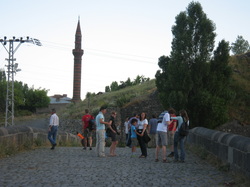 Kars:
A nice town full of russian coloured stone buildings. The Kars Airport (KSY) is only 7km away from the city center where most of the local Airline companies fly to.
To see:
Go and see the castle and enjoy the amazing viws from the top. Don't miss seeing the old stone bridge "Tashköprü" from the 18th century, the Armenian Church of the Apostels and the Cümbet Mosque is also very famous, have a look!
To sleep:
Kars Otel: Tel: (474) 212 1616. Very nice Boutique Hotel with a good restaurant in their courtyard. İf yo don't stay there, then pass by and have a drink, worthwhile seeing.

Grand Ani Hotel: (474) 223 7500. Very new nice hotel with swimming pool.
To eat:
OcakbaşıRestaurant: On Atatürk cad. They have nice food but it's not licensed..

Ani Ocakbaşı: On Kazim Pasa cad. Nice restaurant and good food.

Kars Airport: Tel:(0474) 223 06 74
Kars Train Station: Tel:(0474) 223 43 98
Note>
In the Novel "Snow" from Orhan Pamuk which takes place in Kars, he refers also a lot to the "russian Houses" built "in a baltic" style.
Ani:
The ruins of Ani, 46km East of Kars. Absolutly beautiful, a must see! Open from 08:30 – 17:00.
At the Kars tourist office they can organise the trips to Ani, otherwise you can always hire a taxi to go, wait and come back. negociate the price first !
Çıldır Lake:
Çıldır Lake, only 60km north of Kars is the second biggest lake of Turkey after Van Lake, In summer months, the lake is green and peaceful while it is totally frozen in winter. You can even eat fresh fish in the winter. The deepest point of the lake, which is 1960 metre high from the sea level, is 42 metres.
---