Turkish Cultural Expressions
Turkish Cultural and Social Traditions
www.madeeasierguides.com
Turkish Expressions:
There are many Turkish Expressions that are impossible to translate, but they are used in daily life. You say:
The most common:
afiyet olsun: "Bon Appetit". When someone is eating
kolay gelsin: "May it come easily". When you see someone working or busy with something.
geçmiş olsun: "Get well soon". When someone is ill
hoşgeldiniz: It means welcome
hoş bulduk: This is the answer to 'hoşgeldiniz', it means like thank you for the welcome

elinize sağlık: " Health to your hands" When somebody has cooked/prepared a meal

İyi bayramlar: Happy Holidays

Inshallah: "If Allah wills" or kind of 'let's hope so'
Mashallah: "God has willed it". You say it mainly to express joy, happiness, appreciation when you hear something positive

çok yaşa: When somebody sneezes
Sen de gör: The answer to çok yaşa

başınız sağolsun:"My condolences" When someone has passed away

others:
güle güle kullanin: When someone buys something new (a car or another item)
güle güle giyin: When someone buys new clothing

güle güle oturun: When someone moves into a new home

hayırlı olsun: When someone opens a shop or starts a new business
yolunuz açık olsun: Have a nice trip

yeni yılın(ız) kutlu olsun: Happy new year!
doğum günün(üz) kutlu olsun: Happy birthday!

Allah acil sifalar versin: When you see an ill person
güle güle buyusun: When a baby is born
Allah Anali babali buyutsun: When a baby is born
Bol kazanclar: When someone starts a new business
Allah korusun: This is like saying 'Oh my god'
Allah bir yastikta kocatsin: You say this to newly married couples
Omur boyu mutluluklar: For newly married couples, is like saying 'a lifetime of happiness'
Nur icinde yatsin: When somebody passes away
Topraga bol mekkani Cennet olsun: When somebody passes away
Kazasiz belasiz: When someones gets a new car or goes on a trip
Estağfurullah: "Don't mention it" or "Not at all" A polite and modest way to respond to someone praising or thanking you, or when someone makes self-critical remarks. Nowadays people say more: "Rica ederim"
Turkish Cultural and Social Traditions: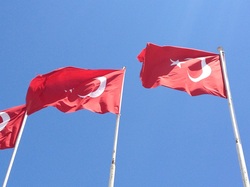 Turkish people:

Turkish people are very friendly and hospitable. If you are looking for a place or need an information, they will always try to help you as much as they can. If you do not speak Turkish, they will stop somebody on the street or call a friend to help translate and they may even offer to come with you to show you a place in case they think you did not understand them.

They love to meet new people, especially foreigners and they will talk and make lots of questions out of friendliness, so get used to it.
They also appreciate a lot if you know some Turkish words, so make the effort to learn some.


---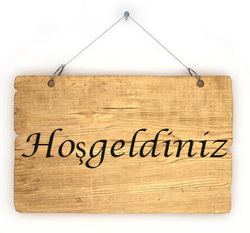 Hospitality:
If you are invited to someone's house, remember that in many houses (depending on their social status) the tradition is to take off their shoes at the entrance. Some will offer you slippers to wear or you just wear your socks.

If the hosts opens the door, and they welcome you with a "Hoşgeldiniz", answer: "hoş bulduk". (It is like answering thank you for the welcome)

Bring a small gift when you are invited and if you know that children are in the house, it is highly appreciated to bring something for them as well (chocolates or so). If you want to bring a bottle of wine, make sure before that you are 100% sure that the hosts drink alcohol, otherwise they can be offended.
Turkish people love to offer a lot to eat, so be prepared to taste many things.
Ladies: Remember: never place your handbag on the floor, it is not well seen.
At the end of the meal, something very appreciated to say is: 'elinize sağlık' (see expressions above)
---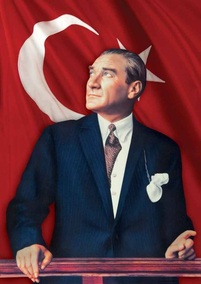 Mustafa Kemal Atatürk
(19 May 1881 - 10 November 1938)
Do not insult or show disrespect for the image or name of Mustafa Kemal Atatürk, the founder of the modern Turkish Republic, or insult the Turkish flag or military, as it is illegal to do so.

On the 10th of November at 09:05 am, the time of Atatürk's death in 1938, Turkey remembers him every year. Sirens are heard across Turkey, Vehicles will honk their horns followed by a minute of tribute where people stop what they are doing and schools and business pause.
taken from
Wikipedia
:
Law on Atatürk
Turkish Law 5816 ("The Law Concerning Crimes Committed Against Atatürk") was passed 13 years after Atatürk's death on July 25, 1951 by Prime Minister Adnan Menderes's government, and protects "Atatürk's memory" from being offended by any Turkish citizen. In 2011, there were 48 convictions for "insulting Atatürk" and insulting Atatürk's memory is punishable by up to three years in jail.
---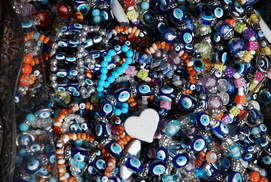 Nazar Boncugu or Evil Eye:
Wherever you go, wherever you look in Turkey, you'll see lots of evil Eyes.
It is common in the Turkish culture to give a gift of a evil eye bead when you go somewhere.
People love to have it at their entrance of the House or office, in their cars, as a bracelet, necklace or any kind of jewelry made with it

The evil eye bead gives protection and brings luck to all.
You can visit also the village called Nazar Köy, 40 min from Izmir where they produce them there, see section 'Day trips out of Izmir'
---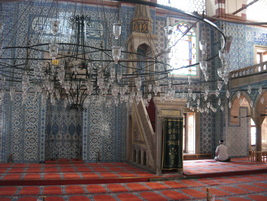 Visiting Mosques: If you want to visit a mosque, please remember:

You have to take off your shoes outside. In some 'touristic' mosques, you may find some galosh (plastic overshoes) to wear, but they do not have it in general. Remember to bring with you a pair of socks in your bag in case you do not want to walk bare food.

If you are a woman, remember to cover your head if you go inside to show respect. In some 'touristic' mosques they borrow you a headscarf, but you might prefer to bring with you a scarf or pashmina in your bag for this occasions.

Do not talk loud inside and try to avoid visiting a mosque on a Friday as this is their day of prayers

The ezan (call to prayer) is chanted six times daily. The exact times change daily and at each location, according to sunrise and sunset.
1) İmsak: Two hours before dawn
2) Güneş: At dawn, just before the sun appears
3) Öğle: At midday, when the sun passes the zenith
4) İkindi: In the afternoon
5) Akşam: At sunset, when the sun has disappeared below the horizon
6) Yatsı: When the last light of day has disappeared

---

Returning a plate:

When a neighbour, a friend or someone gives you a plate with some home-made food on it to try, accept it with pleasure, most of the time its delicious!
But don't forget: when you give the plate back to the person, never return it empty! Cook or bake something yourself or if you are not good at it, just buy some fresh fruits and put it on the plate, but do not return the plate empty, it will be highly appreciated!

Throwing Water behind the car:

If one day you see somebody throwing water behind a car, don't be surprised..it is not for cleaning the car or the street.

Turks have a tradition that if a person, friend or family member, go on a trip, you throw a glass of water after the car. It is to wish them, that the journey going and coming back should flow as easily as water does.