Adana-Tarsus-Mersin up to Silifke
Antakya - Hatay
www.madeeasierguides.com

Adana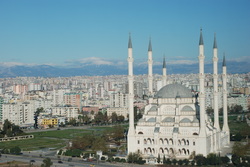 Adana:Adana
is a city in southern Turkey and a major industry, commercial and
agricultural
center. It is the fifth most populous city in Turkey.
Adana has a typical Mediterranean climate. Winters are mild and wet and summers are hot and dry.
To have more Information about cost of living in Adana:
click HERE
How to get there:
The
Adana Şakirpaşa Airport
(Code: ADA) is located in the city of Adana. Tel: (0322) 435 03 80
Where to sleep:
Hilton Hotel: Sinanpasa Mah. Haci Sabanci Bul. No:1. Tel: (0322) 355 5000. In front of the famous roman Bridge.
Sheraton Hotel: Haci Sabanci Boulevard No. 7. Tel: (0322) 237 1717
Hotel Bosnali: Kayalıbağ Mah. Seyhan Cad. No:29 Seyhan, Adana. Tel: (0322) 359 8000
What to see:
The amazing mosque (2nd largest in Turkey), the stone Bridge, the Clock Tower next to the covered market
Where to eat:
Hilton Hotel: They do a very nice Adana kebab
Öz Asmaalti: Tel: (0322) 351 4028. Also known for its Adana kebab
Health:
Acıbadem Adana Hastanesi: Cumhuriyet Cad. No: 66 01130 Seyhan. Tel: (0322) 455 4444. They have several Hospitals around Turkey
Düzen Laboratories: Atatürk Bulvarı No: 34/2, Adana, Tel: (0322) 454 49 01. Very professional. you have also the option to see the results online
Başkent Üniversitesi: Adana Uygulama ve Araştırma Merkezi,Dadaloğlu Mah.2591 Sok. No:4/A, Yüreğir. Tel: 444 99 01. They have all kind of departments
Adana Havalimanı Sağlık Denetleme Merkezi
: Tel: (0322) 435 7862. Official Travel health Center
School:
Gymboree
: Play & Music School for small kids: Huzurevleri Mahallesi, Turgut Özal Bulvarı , No:211, Çukurova
Shopping Mall:
Optimum Outlet AVM: Hacı Sabancı Bulvarı No:28 Z.M03-B1 M18 Yüreğir, Adana. Tel : (0322) 333 3026. They have all kind of shops for clothing ( like Zara, Mango, Derimod and many more. Decathlon, Nike Adidas and more for Sports, Cinemas, Food court etc..
Chocolates:
Godiva: Kurtuluş Mahallesi Ziya Paşa Bulvarı Refah Apt. A Blok No: 23-C Seyhan. Tel: (0322) 502 2063
Tarsus:
About 40km west of Adana on the way to Mersin.
To sleep:
To see:
Church of St. Paul, St. Paul's Well, Cleopatra's Gate and walk around the old city
Tarsus Şelalesi: 2km north of tarsus are this Waterfalls.
Eshab-ı Kehf cave: Situated about 14km north west of Tarsus, next to the village 'Dedeler'. Eshab-ı Kehf, also known as the seven Sleepers Cave. You can enter the cave which is sacred for both Muslims and Christians, by descending the stairs consisting of 15-20 steps. The cave is 300 m2 big and 10m in height
---
Mersin to Silifke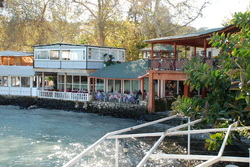 Mersin: Mersin
is a large city and a port on the Mediterranean coast of southern Turkey.The city is an important hub of Turkey's economy as Turkey's largest seaport is located in the city.
Mersin has a typical subtropical climate with hot and dry summers and warm and wet winters.
Mersin is 75km away from Adana, about one hour on the highway
Where to sleep:
Hilton Hotel: Tel: (0324) 241 5000. On the sea front. They have a nice asian restaurant inside.
Mersin Oteli: Cami Şerif Mah. İsmet İnönü Bulvarı No: 62. Tel: (0324) 238 1040
Atlıhan Hotel: Mesudiye Mahallesi, İstiklal Cd. No:138. Tel: (0324) 232 4153

Where to eat:
Deniz Yildizi Restaurant: 4701 Sokak. close to the Fish market.
Recep Usta: Adnan Menderes Bulvarı 224/A Mezitli Mersin
Big Chefs: Eğriçam Mahallesi, Adnan Menderes Bulvarı, Mersin Marina No: 33/F-E Blok No: 58-59, Tel: (0324) 330 0230
Mersins speciality:
Ciğer
Kebap
, (Liver Kebab
), typically served on
lavaş
with an assortment of
mezze
at 12 skewers at a time.
What to see:
Go and see the Atatürk Evi and the Archaelogy Museum
Health:
Medical Park Hospital: Öğretmenler Mah. Şehit İsmet Akın Cad. No: 10 Tarsus, Mersin. Tel: (0324) 241 4141
Düzen laboratories: İnönü Caddesi Şevketbey Apartmanı Orduevi Kavşağı No: 160/B, Mersin. Tel: (0324) 237 7788. Very professional. you have also the option to see the results online
>>Official Travel Health:
Mersin Seyahat sağlığı
: Yeni Mah.İsmet İnönü Bulvarı 5307 Sok. No:8 Liman. Tel: (0324) 238 0409. They do Yellow fever vaccinations (and others) and advise you what you need for the country you go. Vaccinations are free of cost if you are Turkish or foreigner holding a valid residence permit
Cambridge English Exams
can be done at:
Evrim School of Languages: Palmiye mah. 1205 Sokak No 7Mersin. Tel: (0324) 329 1662. They offer YLE, CPE, PET, KET, FCE and CAE
Sports:
There is a big Decathlon Shop also: Limonluk Mah. Vali Hüseyin Aksoy Cad. No:2, 33112 Mersin/Yenişehir. Tel: (0324) 999 3143
Kizkalesi:
Yaka hotel:
(0324) 523 2444. Take a little boat and see the famous Kizkalesi castle and the Corycus castle.
Narlikuyu:
The town is 80km west of Mersin or17km East of Silifke, a very small town next to the sea, on a bay with lots of great fish restaurants ( see picture).
To eat we recommend the Kerim Restaurant: Tel: (0324) 723 3295.
To see around there:
Mosaic museum
Cennet ve Cehennem-Heaven and Hell: Known Caves 2km from the Museum,
Astım Mağarası (Astım Cave): It goes down 300m with a spiral iron staircase. Known for the ones who suffer of Asthma. The avarage temperture is about 15*C and humidity around 90%
Silifke
:
Go and see the Fortress, the ruins of Necropolis and the stone Bridge.
30km northeast are the ruins of Uzuncaburç, really worthwhile seeing.
Half way between Silifke and Karaman (2:30h drive north of Silifke) in the village of Geçici, there is the Alahan Monastery. Built in the year 440, and on an elevation of 1000-1200m. facing the Göksu valley.
---
Antakya - Hatay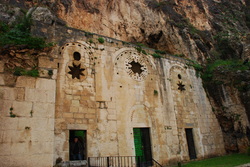 Antakya,
officially known as Hatay is just next to the Syrian border. Beeing so close to it, automatically it has lots of influence in the Food and living culture. Antakya is known for the Saint Peter Church, its museums and mosaics
Where to sleep:
Savon Hotel: Tel: (0326) 214 6355. Very nice Hotel that used to be a soap factory in the 1860's
The Liwan Hotel: Tel: (0326) 215 7777. In the city centre, food is also nice
Mozaik Otel: Tel: (0326) 215 5020. Close to the bazaar and the Sultan Sofrasi restaurant
Where to eat:
Anadolu Restaurant: Hürriyet Caddesi No:30A. Tel: (0326) 215 3335. Nice garden and known for its 'paper' kâğıt kebap

Poc Kasabi ve Kebap Salonu: Yeni Cami Mah, Uzun Carsi Cad, No:154. Tel: (0326) 213 9503. Small low profile place but they are so famous for "tepsi kebabı". Crowded between 12:00 and 14:00
Avlu : Zenginler Mah. Kahraman Sok. No:39 | Carsi Karakolu 50 Mt İlerisi. Tel: (0326) 216 1312. A mix of Turkish, Mediterranean and Middle eastern food. Nice traditional house with courtyard.
Sveyka Restaurant: Kurtuluş Cad. 58 ; Tel: (0326) 213 3947, very nice food.
Leban Teras Restaurant: Zenginler Mah. Gazipaşa Cad.No: 5 (Saray Cad.). Tel: (0326) 214 5500. Very nice Food!
Hatay Sultan Sofrasi: Istiklal Caddesi No: 20A. Tel: (0326) 213 8759. Very nice traditional food.
Çınaraltı Künefe Yusuf Usta's Place: Yeni Camii Mahallesi, Pazar Sok.Ahmediye Cami Ayakkabıcılar Çarşısı No:2, Tel: (0326) 212 6888. Well known for its delicious Künefe.
Meclis Künefe Cafe: General Şükrü Kanatlı Mahallesi, Atatürk Cd. No:2, Tel: (0326) 213 5000. Known for its Künefe
Jatur:
Local travel agency. (0326) 214 4100 . In case you do not want to drive with your own car or you plan to organize to go with a group:They organize tours, you can rent cars or buses.
Sensus Wines
: Odabaşı Bld.Kavaslı Mah. Atatürk Blv. No:114. Tel:(0326) 221 8080
To see:
The Saint Peter church and the Archeological Museum that has fantastic mosaics.
The bazaar of Antakya: There never was a classical closed bazaar in Hatay, but the bazaar quarter might be up to 1000 years old. Absolutly worth doing a tour there.

Health:
---