Pergamon-Bergama - Ayvalık - Sardis

Pergamon-Bergama:
www.madeeasierguides.com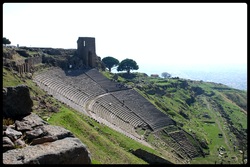 Pergamon
is situated north of Izmir. 130km from Izmir airport (1:30h drive)
Pergamon and its Multi-Layered Cultural Landscape is part of the UNESCO World heritage List since 2014
The best times to see
Pergamon Akropol
is are early morning or late afternoon. In the summer months (april to october) is the most crowded period and it can be very warm during the day.
You can park the car at the bottom of the Hill, then go up with a Teleferik (13 TL) that takes you to the entrance.
It is open from 08:30 am to 19:00h. In the winter months only until 17:30h.. You can use the
Müze card
to enter.You can also buy the Müze card here in case you don't have one yet.
The
Asklepieion
in Pergamon was a healing temple in the Ancient Greece. The first Temple of Asclepius in Pergamon was built in the first half of the 4th century BC. The Asclepion dedicated to Asclepius, god of medicine and healing was built in mid-4th century BC.
A part of the Acropolis and the castle hill, don't miss seeing also the temple of Trajan, the Royal Palaces, the Library of Pergamon, the Theater and the Theater Terrace an the Gymnasium. You can use the
Müze card
to enter.
Bergama Museum
: Zafer Mah., Cumhuriyet Cd No:10, Bergama. Tel:(0232) 631 2883. Open from 08:00 until 17:00. In summer months until 19:00h
The Red Basilica:
It is situated in the city center. At this moment you can enter only one part of it due to renovation, but is worthwhile going in.
Where to stay:
Hera Hotel: Talatpaşa Mah. Tabak Köprü Cad. No:21, Bergama. Tel: (0232) 631 0634. This 200 year old greek house converted in a beautiful boutique hotel.

Les Pergamon: Kurtuluş Mh., Taksim Cd No:35, 35700 Bergama, Tel: (0232) 632 3935. Very nice Ottoman Style Boutique Hotel and Restaurant
Aristonicus Boutique Hotel. No:, Kurtuluş, Taksim Cd. No:37, 35700 Bergama. Tel: (0232) 632 4141.Nice Boutique Hotel in the city center

Where to eat:
Akropol Restaurant: Tel: (0232) 632 7722. Local Food, but nice and clean. They sell also beer and wine. Nice views from their garden

Sarmaşık Lokantasi: On the main Street. Local delicious food, very simple.
Çığırtma Evi: Zafer Mahallesi, Galenos Caddesi, No:3 Bergam. Simple, but nice local Food

What to buy:
At the entrance of Pergamon and Asklepieion you will find all the typical touristic shops.

In the city there are also several carpets shops, but the best is:
Desen Halicilik- Carpet Weaver's Association: on the Izmir-Bergama Street. Tel: (0232) 667 2338. They have also a nice showroom where you can see the women waving the carpets and lots of carpets to feel. Worthwhile a stop !
Tulum Cheese: The Tulum Cheese from Pergamon is very well known. the best place to buy it is in:

Tulumcu: Ertuğrul Mah. Böblingen Cad. No:31, Bergama. Tel: (0232) 632 5150

---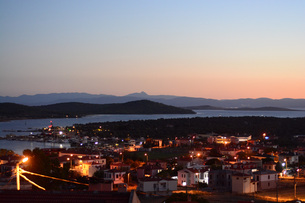 Ayvalık
Ayvalık is a port town about 2h drive northwest of Izmir or one hour drive from Pergamon. You can visit it on a day trip, but better stay for a week-end. It is also surrounded by the archipelago of the
Ayvalık Islands
(the largest of which is Cunda Island)
Ayvalık region is known for its olive oils, so you will find many places to buy them.
Don't miss walking around the old town and have a drink at the marina.
The big open market is on Thursdays at the main square, a must-go if you are there
There are also some nice beaches and also lots of Restaurants by the sea side on Cunda Island.
If you stay longer, you can also consider doing a trip to the Greek island of Lesvos, Ferrys cross daily from Ayvalik.
To see:
Walk around the old town, you will find lots of pretty stone houses that have being restored and many still to come, cafes, Greek orthodox churches, the broken chimneys that used to be from the olive oil factories and much more.

Sevim Necdet Kent Kitaplığı: Former Church and Windmill, now Library.

Taksiyarhis Church.

Discover Cunda Island. Specially for lunch or dinner at the Sea side
To buy
:
Laleli Olive Oils: A Familly run business who have a shop with all their oils, olives, soaps and more at Iskele Mah. İzmir Asfalt Üstü Küme Evleri. No:14 Burhaniye. Tel: (266) 416 49 83. Big selection to choose from. Inside the shop there is also a small restaurant open for lunch where they serve olive oil based food.
Santimetre: Tulya Madra, founder and designer of the ceramics. They have great designs and beautiful items. Talatpasa Caddesi, Eminzade Ishanı No:52/2. They even just opened a shop in NY!
A.L. Anna Lober: Based in Şeref Sokak No. 1. Cunda. Tel: (0533) 323 7069, but also sells at the Thursday markets. She has lots of several handicrafts and knitting items, worth a visit!
To eat:
On and around Barbaros Cad. You will find lots of places to your taste, here some others:
Bay Nihat: Fevzipaşa-Vehbibey Mh., Sahil Boyu Sok. Tel: (0266) 327 1063. Very good Seafood.

Cunda Deniz Restaurant: Sahil Boyu No:15, Alibey Adasi, Cunda. Seafood restaurant

Ayna: Çarşı Cadde No: 22 Cunda Adası (0266) 327 2725. Very nice Food

Cafe Caramel: Vehbi Bey Mah. Barboros Cad. 9. Sokak No: 18/A
Minta Bahçe: Barbaros Cad. No:55. Coffee House
Karamanlar unlu Mamülleri: Hayrettinpaşa, Barbaros Cad. Bakery

Balikci Koboros: Cunda Island. Seafood restaurant
Deniz Yıldızı Restaurant: At the waterfront.Seafood restaurant

Şeytanın Kahvesi: Zekibey Mah. 13 Nisan Cad. No:4

To stay:
Beaches
:
Sarımsaklı Plajı ist the most known, but there are smaller quieter ones not far from this one.
Ferry:
Ferry to Lesvos- Greek island: Information and tickets you can get at
Lesvosonline
Information and Pictures of Ayvalik provided by Stefanie and Kim Lioe.
---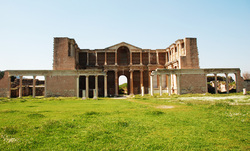 Sardis:
Sardis (Sart in Turkish) was the capital of the ancient kingdom of Lydia. it is situated in the middle of the Hermus valley, aprox. 75km east of Izmir on the way to Ankara. A very nice site not very crowded where you can move freely. You can enter with the Museums card.
Sardis, like Ephesus and Pergamon is also part of
the Seven Churches of Asia
.
---