Izmir: All about Sports
www.madeeasierguides.com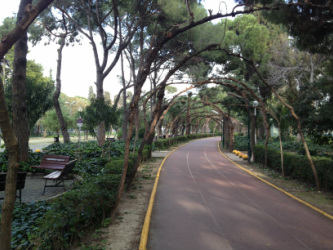 Sports (spor):
These are the shops specialized in sports equipment:
Decathlon: There are two in Izmir: a) Inside the Optimum Shopping Mall: Akçay Cad. No: 101 Gaziemir. and b) At Ege Park shopping Mall in Balcova. They are the mayor biggest Shop dedicated to Sports.
Dağevi: Mahmut Esat Bozkurt Caddesi No-32B Alsancak. Tel: (0232) 465 0016. They have mainly technical sports equipment.
Dağevi: Talatpaşa Bulvarı No:60A, Alsancak. Tel: (0232) 465 0016. They have mainly textile sports equipment, like Northface and others
Intersport: Kıbrıs Şehitleri Cad.No:144, Alsancak. Tel:(0232) 421 0874.
SPX: They are in the Mavi Bahce Shopping mall. Tel: (0232) 274 4866. They sell also items from Northface, Salomon, Bogner and others.
Thank you to all the friends who helped realizing this page. Special thanks to:
Isla Selupucin, Paloma Iñiguez,
If you know and want to recommend a special place, please send me an email:
click here
>> Please note that this page is still not finished, but you can already start looking...:Archery:
In the Halkapınar Spor Salonu- Atatürk Spor Kompleksi Halkapınar (Izmir Ataturk Stadium, Mersinli Mh). Open on wednesdays from 18:30 to 20:30 and Saturdays from14:30 to 16:30. For more information please contact: goktugergin@gmail.com or Esen Hanım : (0506) 271 7158
Materials you can get at: Isgoren: 895 Sokak No:12, Hisarönü, Kemeraltı. Tel: (0232) 445 0833 or at Decathlon
Bowling:
Fame City. Inside the Hilton complex. Gaziosmanpasa Bulvarı, No:7, Alsancak. Tel: (0232) 446 08 08. They have bowling area,billiard and many more things
Oliver Cafe Bowling: Mavişehir Mahallesi, 2040. Sk. 104/213, Karşıyaka. Tel: (0232) 330 1300.
Bicycle:
Bisim: Since January 2014, 'Bisim': All around the Izmir Bay you can find Bicycles to rent. 29 stations between Mavişehir and Inciraltı.
Easy to use, easy to ride. You can get a card ( 5 TL) at the iskele in Konak Pier. You will need to be 18+ years, show I.D. minimum card filling is 10 TL. Usage is 2,60 Tl/hour. 3 Bikes can be rented at the same time with one card. (info: Oct. 2017)
Dance:
Clave Dance Academy - Cumhuriyet Bulvarı No: 194 K:6 Daire:6, Alsancak. Cell: (0506) 792 0042. They do all kind of dance courses, Tango, Rumba, Modern Dance, etc..
Izmir Dance'n Spor: Kıbrıs Şehitleri Cad. No:24 K:6 D:12 Kamer İşhanı, Alsancak. Cell: (0543) 343 9650. They do Tango, Salsa, Rumba, etc.. also pilates clases
Aydans Sanat Merkezi: Aydans Sanat Merkezi - 1715 Sok. No:54 Kat:2 Daire:3, Karşıyaka. Cell: (0507) 704 6218. They do all kind of dancing courses: Tango, Salsa, Modern dans, etc..
Tarz Dans: Şair Eşref Bulvarı No:31 Kat:1 D:101 Montrö, Çankaya. Tel: (0232) 425 4533. They do all kind of classes, also belly dancing
Izmir Tango Academy: Kültür District, St. 1375 No:18/4, Alsancak. Tel: (0530) 821 9071.
Diving:
Fishing:
If you want to fish in Turkey, you will need a fishing lisence. To get one, you have to apply at:
Fishing material you can find in many shops in Kemeraltı, here some places:
Çağlar Av: 861 Sk. No: 72/C, Kemeraltı. Tel: (0232) 483 4881. They sell items from the Apnea mark.
In the 902 Sokak there are also several shops with Fishing equipment
Football:Golf:
The closest one to Izmir is between Kuşadası and Söke
,
about 1:20 drive from Izmir away:
Go-Karting:
Kartland Karting: At the Shell Station on the highway from Izmir to Çesme, km 26. Tel: (0232) 236 8418
Hiking-Trekking:
There are lots of possibilities to Trek in and around Izmir. Known places are: Karagöl Nature Park, on the mountains behind
Balçova-Narlıdere, Buca and its villages,
Güzelbahçe and its villages, Ödemiş Bozdağlar,
Karaburun Peninsula, Tire, Menderes,
Gölcük Lake in
Ödemiş
, Karacadağ and their surrounding area, Kemalpaşa- Bayındır- Ovacık, Karabel, Çiçekli, and Şirince and Belevi Lake next to Selçuk. In some areas you can even come across lakes and waterfalls
There are several Clubs and Associations that organize Tours every Sunday, like:
Horse riding:
İzmir Atli Spor ihtisas Külübü: .Uğur Mumcu Cad. No: 126, Buca. Tel: (0232) 426 8151
İzmir Şirinyer Hippodrome. Şirinyer Hippodrome Şirinyer. Tel: (0232) 487 9568. 15km from the airport. There are also Horse races there, restaurants and they also have Ponys for the small kids.
Ege Atlıspor Club: Gaziemir Kısık yolu üzeri 7 km, Torbalı. Tel: (0232) 257 6066. Basic to advance riding classes.
B.Equine Horse Riding Club: Sahilevleri Mahallesi, Kale Sokak, No:83, Narlıdere. Tel: (0232) 239 6224. very nice elegant new club with also a Pony Club, an hotel and restaurant.
Konvoy Country Club: Turgut Village Kümeevler No:21 35460 Seferihisar, Tel: (0533) 366 4233. Hotel and Country Club
Kemal Bey Ranch. Kaz Deresi Mevkii, Urla. Tel: (0232) 759 0514
Rahatla: Enjoy breakfast while your kids ride on a Pony. Dörtyol Mevkii,next to the Shell Station. Urla. Tel: (0232) 754 6571
Hunting:
You will need a hunting license in Turkey. For more information (in Turkish only) click HERE

Hunting material and more:
Isgoren: 895 Sokak No:12, Hisarönü, Kemeraltı. Tel: (0232) 445 0833. Also in the 902 Sokak there are several places.
Izmir Shooting Expertise Club: Çiçekli Köy, Bornova. Tel: (0232) 877 0356. Shooting Club with Skeet and Trap
Ice skating:
Bornova Aşık Veysel Rekreasyon Alanı: Erzene Mahallesi, Bornova. Tel: (0232) 293 3876
Inside the Optimum Outlet. Akçay Cad. No: 101 Gaziemir there is one small piste just next to Reyhan.
Kiteboarding
:
UKC- Urla Kite center: 12083 sokak No31/3 Gülbahçe Mah. Urla. Tel: (0507) 138 9196. They give courses, individual classes and holiday packages. For more information you can contact the owners, Pierre, (Turkish/French), Cell: (0539) 952 9028 or his wife Karina (Russian)
Lifeguard Courses:
TSSF Cankurtaran: Turgutreis Mah. Mustafa Kemal Sahil Bulvarı No:103/A Karataş. Cell: (0555) 976 3616
Motorbike:
Harley Davidson: official shop: 1.Kordon. No: 376/A. Alsancak. Tel: (0232) 404 9090
Paintball:
Seyirtepe Paintball: 7368/5 sok. no:15/d Bayraklı. Tel: (0538) 437 00 01. Next to the Sayirtepe restaurant
Paragliding:
Flyinfante Paragliding School: Atatürk Caddesi No:222 1. Kordon Alsancak. Tel:(0232) 404 04 44. A school where you can learn to Paraglide. They are accredited at the Turkish Aeronautical Association and Fédération Aéronautique Internationale (International Aeronautical Federation)
Pilates:
In all mayor
Health Clubs
you can find Pilates class
Other good places are:
The Pilates Lounge: Maltepe Mahallesi Mehmetçik Sokak 26/b, Güzelbahçe. Cell: (0533) 727 5601. They have qualified English teachers.
Ege Pilates: Bariş Apt., Zemin Kat, Cem sokak No. 14, Narlıdere, Tel: (0232) 238 0788. The owner/teacher is British, Miguel Bengoa
Rugby:
Güzelbahçe Rugby Martians (Güzelbahçe Ragbi Marsları): They train every Friday and Saturday in Yelki Stadium Güzelbahçe. Trainer Pierre Saliba is a qualified coach. For more information, please contact Pierre via email or Cell: (0531) 591 7816.
> Training times are: Adults, Ladies Friday evening 19:00 to 21:00; Adults, Gentlemen Saturday evening 18:00 to 20:00. Under 12 years old players Saturday afternoon 14:00 to 16:00. Between 13 and 16 years old players Saturday afternoon 16:00 to 18:00
Sailing:
If you need to repair sails:
Ullman Sails-Türkiye: Metal İşleri Sanayii Sitesi, 2.Cad. No:131, Izmir, Tel: (0232) 257 6341. Very professional
If you need to do a service of your safety equipment:
Foka Teknik Denizcilik: 677/39 Sok. No:25; 6.Sanat Sitesi; Karabağlar. Tel: (0232) 282 0691. Service for Life Rafts, Life Jackets and much more.
Scuba diving
:
Skiing:
The closest place to Izmir is in Bursa, Uluda
ğ. To see all the other places and information about skiing, please
click HERE
Equipment you will find in the winter months at Decathlon and Intersport.
.
Swimmingpools:Tennis/Squash: Yoga:
MYC- Mandala Yoga Center: Cemal Gürsel Cad. 472/2, Kat:1, Daire:3. Bostanli. Tel: (0232) 337 0900

Izmir Yoga: 1377 Sk. Çiftçi Apt. No.7 Kat.4 D.8 Alsancak. Tel: (0232) 421 1165.

Yoga with Ece – Güzelbahce Cell: (0537) 648 7179

Tara Yoga İzmir: Park Yaşam Ticaret Merkezi Yalı Mah. 6523 Sok. No:32 B. Kat:1 Daire:110 Mavişehir Tel: (0232) 520 1407 or (0531) 364 2056.They have special offers for people who would like to be member and if you want to become member with your friends, you're getting extra discount.
Windsurfing:
Urla, Çeşmealtı and Alaçatı are good windsurfing places, here are some clubs:
More information you can find in the
URLA page
---