Müzekart (Museums card)

www.madeeasierguides.com
Please check the
official website
of the Museums cart for the latest updates and availability
NEW: There are now several different Museum Passes available for Tourists:
They can be purchased at the different cultural sites of the region.
Museum Pass Aegean. The 7 Days pass: 75 TL
Museum Pass Mediterranean. The 7 Days pass: 60 TL
Museum Pass Cappadocia. The 3 Days pass: 75 TL
Museum Pass Turkey. The 15 Days pass: 210 TL
Museum Pass Istanbul: The 5 Days pass; 125 TL
Müzekarts for Turkish citizens and foreigners with residence permit: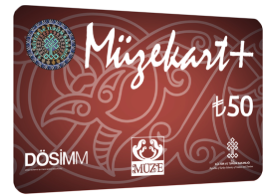 Müzekart provides free access to over 300 museums and archaeological sites run by the Ministry of Culture and Tourism.
TL 50: over a period of one year
This Müzekart can be only used by Turkish citizens, citizens of the Turkish Republic of Northern Cyprus, foreigners with Turkish residence permit, foreign students enrolled in associate degree, bachelor's degree and master's degree programs of higher education institutions in Turkey.
If you are a foreigner with residence permit, do not forget to show your ID card together with the residence Permit when you purchase the card
If you are a tourist, please check the
official website
for the latest news
You can buy the card in each site mentioned below, as well as in:
Adana
: TÜRSAB BYK Ofisi: Kayalıbağ Mah. Seyhan Cad. No:45 Seyhan Tel: 0322 359 20 60
Bursa
: TÜRSAB BYK Ofisi :Kükürtlü Mah. Belde Cad. Başaran Sok. Yeşil Deniz Apt. No:8 Çekirge Tel: 0224 234 52 02
Eskisehir
: TÜRSAB BYK Ofisi: Cengiz Topel Cad. Bağlar Apt. No:24 K:2 D:8 Tel: 0222 230 30 31
Izmir
: TÜRSAB BYK Ofisi: Kıbrıs Şehitleri Cad. 1462 Sok.No:48 Alsancak Tel: 0232 464 03 47
---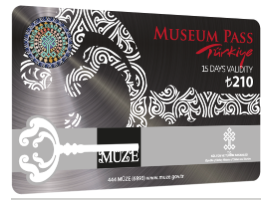 You can enter the following places with the Museums card:

Aksaray: Ihlara Valley

Ankara: Museum of Anatolian Civilisations

Antalya: Castle of Alanya, Side Antique Theatre, Antalya, St. Nicholas and Side Museums, and the Archeological Sites of: Aspendos, Myra, Olympos, Patara, Perge, Phaselis, Simena and Termessos

Aydin: The Archeological Sites of Aphrodisias, Didyma and Miletus.

Çanakkale: Assos and Troia Archeological Sites

Gaziantep: Zeugma Mosaic Museum

Hatay: Hatay Museum

Istanbul: Hagia Sophia, Chora, Istanbul Mosaic and topkapi Palace Museums, the Istanbul Archeological Museums and the Museum of Turkish and Islamic Arts.

Izmir: Ephesus and Bergama Archeological Sites and St. Jean

Mersin: Chasm of Heaven and Hell

Muğla: Bodrum Museum of Underwater, Karaköy, Kaunus and Knidos Archeological Sites, Mausoleion and Sedir Island

Nevşehir:The underground cities of Derinkuyu, Kaymakli and Özkonak, the Göreme Open Air Museum and the Zelve Archeological Site.

Trabzon: Sümela Monastry and Trabzon Hagia Sophia Museum

---
Museums Pass for Istanbul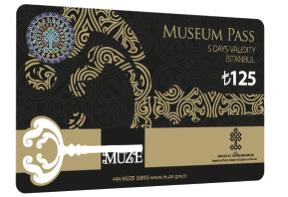 The Museum Pass İstanbul
costs 125 TL and is valid for 5 days (120 hours), beginning with your first museum visit.
With this card, you will be able to visit:
Hagia Sophia Museum
; Topkapı Palace and Harem
; İstanbul Archaeological Museums
; Museum of Turkish and Islamic Arts
; İstanbul Mosaic Museum
; Museum for the History of Science and Technology in Islam
; Chora Museum
; Fethiye Museum
; Galata Mevlevi House
and the Rumeli Hisar Museum
without having to queue.
The advantages offered to holders of the Museum Pass İstanbul aren't just limited to this; attractive discounts await at the city's elite private museums, together with arts and entertainment venues.
You can purchase the card at any of the sites mentioned here.
To see the list of Museums in Istanbul, please
CLICK HERE
---