Çanakkale, Troy & Assos, Eskişehir
www.madeeasierguides.com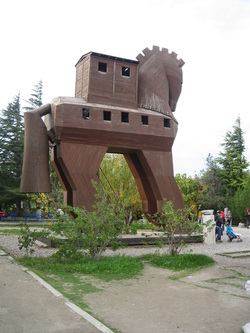 Çanakkale:
Çanakkale
is situated on the southern (Asian) coast of the Dardanelles. Çanakkale Province, like Istanbul Province, has territory in both Europe and Asia. Çanakkale is the second city to be situated on two continents after Istanbul.
Where to sleep
:
Hotel Akol: Tel: (0286) 217 9456. At the seafront
Hotel Limani (Maydos):Tel: (0286) 213 5970. info@hotellimani.com .View to the sea
Kavala Balik Lokantasi: Tel: (0286) 214 3519. Restaurant on the seafront. Very good fish
What to see:
The naval museum and the Wooden horse of Troy. This is the orgininal horse they used for the film "Troya" with Brad Pitt in 2004, it's situated nearly in front of the hotel Akol on the waterfront.
Ferry:
To go by car to the Gallipoli Peninsula: there are
Ferrys
where you can put your car on it between Lapseki and Gelibolu and between Çanakkale and Eceabat. They leave every 30 minutes and costs about 25 TL one way.
On the peninsula :
The Gallipoli Houses,
Kocadere Village: Tel: (0286) 814 2650 .
Guide for Gallipolis
: Izzet Yildirim (0533) 382 4317 mail:
izzety2003@yahoo.com
. He speaks English and French
In Ecebat:
Visit the
Suvla Winery
:
İsmetpaşa Mah, Çınarlıdere Mevkii, Eceabat/ Çanakkale. Tel: (0286) 814 1000

---

2015:
On April 24th and 26th, there will be airshows in Çanakkale celebrating the
100th Anniversary of Çanakkale Victory of Ground Wars


---
Troy
lies south-west of Çanakkale.
> Troy is part of the UNESCO World Heritage list since 1998.
Troy is one of the most famous archaeological sites in the world due to its 4000 years of history. First excavations have been in 1870 !
The ruins of Troy, open from 8:30am to 7pm in summer and until 5pm in winter months
Guide for Troy
: Kenan Celik (0532) 738 66 75 e-mail:
kcelik@ttmail.com
). He speaks english
A little bit more south of Troy t
here is
the island of Bozcaada (it has lots of small hotels and restaurants). Also known for its good wines.
Assos:
Assos is a very nice little small town by the sea. before you drive down to Assos, stop at the temple of Athena, on top of the Hill.
Grand Assos Hotel
: (0286) 721 7006 . Next to the sea
Assos Kervansaray Hotel,
(0286) 721 7093,
Eskişehir
Eskişehir, a very nice city only 230 km west of Ankara or 330 southeast of Istanbul is known as a University Town. The main one, being the 'Anadolu University' which has one of the largest student enrollments in the world.
Eskişehir can be visited very easy as a day trip from Ankara.
The High speed train (Yüksek hızlı tren- YHT) goes 10 times a day in each direction. The trip lasts 90 min.
There are many things to see in Eskişehir:
The Sabanci planetarium: that opened in April 2012, located in the Sazova Science and Culture Park, Tel: (0322) 324 9469 or 444 8236.
Atatürk and Culture Museum
Eskisehir Archaeological Museum
Ottoman House Museum
Kursunlu Mosque and Complex of Buildings: In Odunpazari. There is a mosque, a rest home, large and small caravanserais and a sadirvan in it.
Contemporary Glass Arts Museum: Akarbaşı Mah. Türkmen Hoca Sok. No: 45 Odunpazarı, Open from 10:00 to 19:00, closed on Mondays.
The House of Nasreddin Hodja :
Nasreddin Hodja, who is the inventor of many jokes which hold an important place in the humour literature of Turkey.
Haller Youth Centre; the former fruit market building that has been newly restored.
Wax Museum- Balmumu Heykeller Müzesi: Atatürk Bulvarı No:43,Tel: (0222) 234 37 34.
Glass Museum-Çağdaş Cam Sanatları Müzesi: Atatürk Bulvarı No:43, Tel: (0222) 234 3734
>>and don't forget to make a tour on a Gondola :-)
Where to eat and have a drink:
Health: