Ankara - Made Easier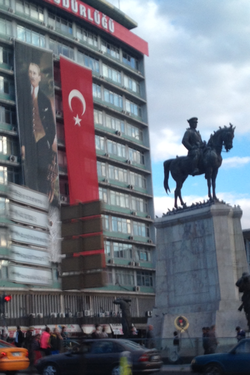 This Website is dedicated specially to all expats and has been created to help all the newcomers to Ankara with some useful addresses, telephone numbers and links.
"Ankara- Made Easier"
is a guide that was published first in 2009 in English and in Spanish with all the useful and important information about Ankara.
All of the information you will find here online now.
About Ankara:
Ankara, the capital of Turkey since October 13th, 1923 is located in central Anatolia. Historically known as Angora, Ankara is the second largest city in Turkey with a population of about 4,5 million. The city has a mean elevation of 935 meters.
Ankara has a continental climate with hot, dry summers (it can go up to 35-40*C but average is around 30*C) and cold, snowy winters ( it can go down from -12 to -20*C but average is about -4*C ). Rainfall occurs mostly during the spring and autumn.
The airport is situated in the north of Ankara, Ulus is the historical center, where the citadel is and going south to Çankaya area (Kavaklidere and G.O.P are part of it) is where you will find the presidential Palace and most of the Embassies.
The main areas where foreign Diplomats and Businessmen live are: Kavaklidere, G.O.P, Çankaya in the city and in the outskirts in: Oran and Incek to the south and Bilkent, Beysukent, Angora Evleri, Ümitköy and Çayyolu in the west
>To view : the
Google map of Ankara
Have a look at this information and if you have some comments or suggestions, or if you see some errors, changes or omissions, please do not hesitate
to contact me
. Have a nice stay in Ankara!
SEARCH
for something specific in Ankara >
click HERE
To get more information about the cost of living in Ankara:
Click HERE
Traveling into Ankara / Turkey:
Many Foreigners will need a visa to enter Turkey. Check the following webpages of the Ministry of Foreign Affairs to see if you need a visa and the fee for it:
a)
Visa Information for Foreigners
b)
Visa Fee at Border Gates
>>> More information and Links to official government pages, please see at the
Home page
of this website.
To purchase an e-visa online:
Turkish visa can be obtained from the Turkish missions abroad or over the e-Visa Application system (if you are eligible).
e-Visa is valid for tourism and trade purposes only.
You can check if you are eligible for e-Visa by clicking "Apply Now" of their website ( https://www.evisa.gov.tr/en ) and selecting your nationality. Each traveler must obtain a separate e-Visa, including infants and kids. (Even though kids/infants are included in their parent's passports)
Your passport must be valid at least for 6 months by the time you enter Turkey. Depending on your nationality, there might be some additional requirements to be met. You will be informed of these after you select your nationality and travel dates.
Go to:
Turkish State Meteorological Service
Go to:
The official Turkish Earthquake Department:
LINKS to the ANKARA pages:
Click on the following links to go directly to the page:
---