The West Mediterranean Coast
www.madeeasierguides.com
Fethiye, Marmaris, Dalaman, Kalkan, Patara, Kaş, Blue Cruises, Simena & Kekova


Fethiye: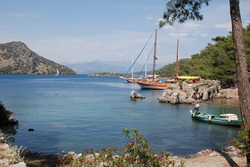 Fethiye is a beautiful little town with a great marina in the district of Muğla Province. Many Gülets/Boats stop there. it has a nice center of town full of Restaurants, bars and shops. It is very popular among the British Community. You can reach Fethiye by car: From Izmir: 320 km (3:30h). From Antalya: 200km (2:45h) or you can fly to the nearby airport Dalaman (DLM) :50km (45min)
Airshow:
Every year there is an Airshow for the Ölüdeniz Air Games Festival
Inside the Fish & vegetable market, there is a huge courtyard where you will find lots of restaurants. You can buy your fresh fish at the market, then take it to the restaurant where they will cook it for you they way you like it.. All of them have mezzes & salads. Fantastic and a great experience
Do not miss:
Saklıkent Canyon: Saklıkent means "hidden city" and is only 50 km from Fethiye, ideal for a day-trip. The Canyon is 18km long and 300 meters deep (one of the deepest in the world), You can only enter the canyon in summer as in the winter months the level of water rises too high.The Canyon is mainly walkable after April.
Ölüduniz (Blue Lagoon): Only 14 km south of Fethiye is the famous Ölüdeniz village and beach resort, the most photographed beach in the Mediterranean. Why? Go and see by yourself :-). If you like paragliding, this is the place to go!

The Lycian rock tombs: Just behind Fethiye on the mountains, you can even see them from the Road, but you will regret it if you don't walk up. Be prepared to walk up many steps, but the views from there are absolutely worthwhile!
Kayaköy village, also known as the 'Ghost Town'. About 20min drive from Fethiye. When the Greeks had to leave the village in 1923, Turkish farmers installed themselves there but had very hard times adapting to the place. After the mayor devastating earthquake in 1957, the town remained empty. Now tourists can see the old homes & old Greek Orthodox Church that still remains largely in tact. The Ghost town ruins are open daily until 6:30pm in summer and 5pm in winter.
Boat Trips: There are many boat trips starting from Fethiye. You can do the islands trip or even a nice day trip to Göcek
If you like Horse riding: Check out:
Desperado Ranch
.
---
Beaches:
Çaliş Beach: Close to the Bird Sanctuary. Beautiful place to go to see the sunset.
Samanlık Bay: only 3 km from the centre of Fethiye. Also some day boats stop in that Bay
Kuleli Plaj: About 25 min drive from the centre of Fethiye.
Aksazlar Bay: Its close to a dockyard, therefore people go minly there to relax and eat
Ölüduniz (Blue Lagoon): Only 14 km south of Fethiye is the famous Ölüdeniz village and beach resort, the most photographed beach in the Mediterranean. Why? Go and see by yourself :-). If you like paragliding, this is the place to go!

If you want to go diving, there is a liveaboard leaving from Fethiye:
Seahorse holidays
:
Fevzi Çakmak Cadddesi No:33/1, Fethiye. Talk to Mehmet Tel: (0532) 452 6834
Others:
Fethiye Fish Market: Belediye cad. Don't miss it !! You can buy your fish at one of the stands and all of the restaurants around it will cook it for you the way you like it. This place is also very touristic, but really worth going

Paspatur Market: Cumhuriyet Mahallesi, Çarşı Cad. Walk around there and you know you don't want to leave Fethiye.

Health:Pharmacies

You can recognize them by the big large red "E" .E from "

Eczane."

You will find many , many of them all around the city.

Pharmacies on duty:

To see which ones are open late at night, on Sundays or public holidays:

Click here
Medical Hotline:
Call >
112 in emergencies
and
184 for information and complaints
.
A medical translator can be reached at: Tel: 444 47 28
Translators speaking English, German, Arabic and Russian are on standby 24/7 to help foreigner communicate with doctors.
Hospitals:
ESNAF Hospitals: Tuzla Mah. Sadi Pekin Cad. 54. Sokak No:3. Tel: (0252) 612 6400 . Private Hospital
Fethiye State Hospital: Akarca Mahallesi Mustafa Kemal Bulvarı Çalış Yolu No:196 Fethiye. Tel: (0252) 613 3546. State Hospital
Acupuncture:
Fethiye Akupunktur: Mustafa Kemal Buvarı No: 19/3. Fethiye. Tel: (0532) 345 1546. Acupuncture for all kind of treatments.
Chiropractor:
Dentists:
Park Klinik: Cahit Gunduz Cd. Tuzla Mh. Muğla,Tel: (0252) 612 9999. Dentist, Orthodontists, Cosmetic Dentistry and more
Holident Dental Clinic: Likya İş Merkezi Atatürk, Cad. Kat:1, Fethiye. Tel: (0252) 614 8703. Dentist, Implants & all kind of treatments, Cosmetic Dentistry and more
Dermatologist:
Uzm. Dr. Pınar Yönter OĞUZ: Akarca Mahallesi, Şht. Nihat Oran Caddesi No: 21 D:1 Fethiye. Tel: (0252) 613 6763. For all kind of skin-treatments

We recommend:
If you would like to have your Company/Restaurant Logo featured here, please send an email through "
contact us"
for more information.
Beach:
Marmaris:
Nil Restaurant: Barbaros Cadesi, Yat Limani nº 101 Tel: (0252) 412 8909, vey good fish
Yüksel Yachting: RYA training center, Sailing School, Charters. Tel: (0252) 413 3345
Sollare Sailing: IYT training center, Sailing School, Charters. Tel: (0535) 204 3357
Divers Delight Tour Company. Tel: (0252) 455 3885. For diving lovers
Hotels:
Beach: The Içmeler Beach , 8km away from Marmaris in the Datcha peninsula is beautiful and very popular. You can also walk up the mountains to have beautiful views.
Dalaman:
To the
airport Dalaman (DLM)
there are many charter flights and local flights flying in.
Hilton Dalaman Resort & Spa:
Tel: (0252) 286 8686. 10 minutes from Dalaman airport. Very good big hotel with lots of facilities.
They are about to open a golf course there also very soon.
Robinson Club Sarigerme Park
: In ortaca. very good if you have small kids.
Dalyan
:
Dalyan Turkuaz Homes
: Real Estate Agency: Dalyan mah, Gürpınar sok No.306. – Ortaca – Muğla. Tel: (0252) 284 5528. Very well English spoken. Contact
Lisa
for more details.
Kaş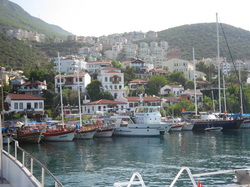 Kaş is a small, very nice fishing village on a hill. It is now well known for diving, fishing and tourism. It has many small restaurants, some beaches and a very nice atmosphere. The town lies about 170 km west of Antalya.
Here are many little Pansions and many restaurants you can choose of. here some we like:
Where to sleep:
Hadrian Hotel: Çukurbag Yarimadasi, Kaş, Tel: (0242) 836 2856 Boutique Hotel with very nice views on Kaş.
Gardenia Boutique Hotel: Tel: (0242) 836 2368. They have a rooftop terrace. Ask for rooms with sea view.
Mercan Restaurant: Balikçi Bannagi, Marina Kaş, Tel: (0242) 836 1209. Good fish restautrant
Where to eat:
Balık Bahçe Restaurant: Tel: (0242) 836 2370. Very good Fish and mezzes on a small garden
Ratatouille. Cell: (0531) 724 5846. Very nice mediterranean Food
Manzara restaurant; Tel: (0242) 836 2625. As the name says, great views.
Teras Restaurant Cafe Fish and Steak House. Tel: (0242) 836 2135
Cinarlar Pizza and Pide.
What to do:Beach:
The Kaputaş Beach is a nice small beach 20km away from Kaş, between Kaş and Kalkan and worthwhile a trip.
Tour Operators:
Airport transfer: You can ask for one at: Alibaba Tourism or ask your Hotel
Bouganvilla Travel: They can organise you tours and/or activities like: canyoning, paragliding, and more
---

Kalkan: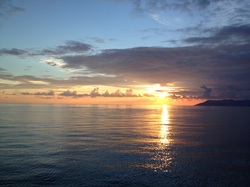 Kalkan:
Kalkan is a very nice town full of charm and situated along the Lycian Coast. Great place to be based while visiting all the historical places around
Where to sleep:
Where to eat:
Iso's Kitchen: Tel: (0242) 844 2415 Yilmaz Cad.17. A very small restaurant with only 10 tables, from outside nothing special, but the food is just delicious! A must!
Aubergine: Tel: (0242) 844 3332. Yaliboyu Mah.Yet Limani. Restaurant &Lounge bar at the Harbour. Nice food, specially the wild boar.
Korsan Fish Terrace: Tel: (0242) 844 3076. On the roof of Patara Stone House. Nice seafood.

Sade: YalIboyu Mah. Hasan Altan Cad. no:7. Tel: (0242) 844 2303. Turkish Food
Yakamoz: Iskele caddesi yalI boyu mahalesI. Tel: (0242) 844 2070
Moonlight Terrace: Kalamar Yolu No 9. Tel: (0242) 959 3613. nice views
Others:
Patara:
Patara is in the heart of the Lycian region and is known for its 18km sandy an very clear beach.
The beach is also a nesting place for loggerhead turtles (caretta-caretta) and its dunes and lake behind is a protected area for rare birds.
What to do:
Don't miss going to see the ruins and temple of Patara, birthplace of St Nicholas, also known as Santa Claus.
Behind Patara and Kalkan there is also the famous 'Lycian way' that passes. The Lycian way,the most famous trek in Turkey.The Lycian way is a 509 km way-marked footpath around the coast of Lycia in southern Turkey, from Fethiye to Antalya
Where to stay:
>
Xanthos-Letoon:
This sites are approximately 45 min drive from Kalkan as well as from Kaş. Worthwhile seeing if you are in the area. Xanthos-Letoon is part of the UNESCO World Heritage list since 1988.
---
Blue Cruises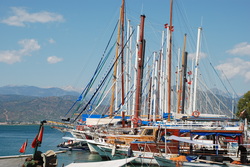 Blue Cruise:
The highlight of many people: Cruise along the western Mediterranean Turquois Coast.
The best way to do so is on a traditional "Gület" ( wooden sailing Boat)
There are lots of companies that do trips out of Bodrum, Marmaris, Fethiye or other places. Some good ones are:
If you know another good company that does rent out Gülets, please feel free to comment and recommend.
---
Simena and Kekova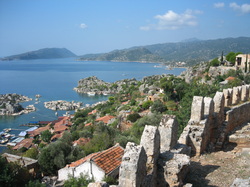 Simena/ Kekova:
Simena Pansiyon
/
Kale Pansiyon
: Tel: (0242) 874 2111
Between Kaş and Finike. Two cousins and each of them runs a pension. Simena P is 100m above the sea with beatiful views and nice rooms. To eat and swimm you walk down to the Kale pension where you also have dinner . The car you leave at a small town called Üçağız, from there, they will pick you up with a boat and take you to the Kekova island. Very nice place to relax as there are no cars.
Worthwhile visiting if you are around there.
---