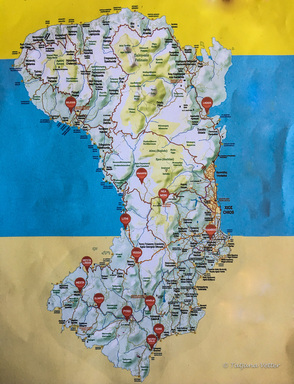 Chios (Sakız) Island (Greece)

www.madeeasierguides.com
The Greek Island of Chios, situated in the Aegean Sea is the 5th largest Greek island (after Creta, Euboea, Lesbos and Rhodos) and is located around 7 km off
Çeşme. For that reason, it makes Chios a great island to visit on a day trip or even better for a week-end.

Before going, please check if you need a Visa to enter Greece! Please check here if you need a visa or not.
If you need a Visa, you can apply using the website of VFS.GLOBAL
For more information, check the Webpage of the Greek Consulate General in Izmir

The currency in Greece is: Euros.
Chios Island
is known for its Mastica production, This unique natural resin (mastic) of the Chios mastic tree is the main pillar of Chios economy. It is used in many different ways as gum, aroma or flavor for liquor, ice-cream, cookies, and many more food items, as well as for pharmaceutics. The Mastic tree grows only in the South of Chios (In the villages of Lithi, Vessa, Mesta and many more, also called the 'Mastihohoria', that means mastic villages. The harvest starts in mid-August and last approximately one month.
The Mastica production has been raised since the 8th-7th century A.D.


Going into Chios:

Between Chios and Çeşme there are Ferrys running twice a day. You can choose between the high-speed ones that takes 25 minutes or the normal ones that take 35-40 minutes.
The Ferry companies are the following:
Erturk
,
Ege Birlik
, or
Sunrise Tours
. You can buy the ticket at the Ferry station (please come minimum one hour before departure, if not more) or you can also buy the tickets online directly at the Ferry companies or at
Feribot
or
Go-ferry
.
It is better to leave the car in Turkey and rent a car in Chios, less hassle with paperwork. Car rentals are next to the ferry station and prices are very affordable.
The following car rentals are available in Chios:

Taxis
: If you want to take a Taxi from Chios to another place, the numbers are: +30 22710 41111 /+30 22710 43312 / +30 22710 43313
Approximative fares are from Chios Town to: Airport: 8 Eur, Nea Moni Monastry: 18 Eur,
Lagada: 22 Eur, Pyrgi: 35 Eur, Mesta: 45 Eur.
Where to Stay:
Hotels:
Boutique Hotel:
Mouzaliko Hotel: (Bed&Breakfast only) 52 Chalkousi Maria & Paidousi Irini Street. Kampos. Tel: +30-22710-31624 ; Mobile: +30.6974057299
Villages, Towns & Places to visit:
What happens in Chios at Easter?
In the small village called Vrontados, 5 km north of Chios, in the night between Saturday and Sunday of Easter around 8pm there is the 'Rocket war':
After the Easter mass ceremony, the two rival churches (Agios Markos and Panagia Erythiani) fire tens of thousands of rockets at each other across a small valley as part of an Easter celebration. They fire rockets at each other and whoever hits the other church's bell tower first wins the war. It's a beautiful spectacle to watch
To see a you tube video:
click here
---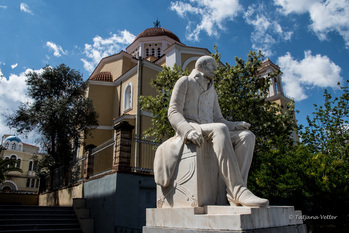 What to do in Chios Town:
If you want to walk around the city, just few minutes away from the main Harbour is the very long pedestrian street called: 'Aplotarias' where you can find all kind of shops.
The Vounakiou Square. Main square. Walk around it or have a coffee in one of the bars next to it.
The Fortress (Kastro): few 100 meters north of the Harbour. Walk inside through the fortress walls. You will find many small streets, coffee houses, shops and feel the nice atmosphere inside

The Byzantine Museum on Vounakiou Sq. Open from 9am to 4pm. closed on Mondays. The Museum is housed in a 19th century-old Ottoman mosque, where you can see a copy of the famous Delacroix's painting "Massacre at Chios"
The Maritime Museum of Chios. 20, St Tsouri Street. Open from 9am to 2pm. Closed on Public holidays and Sundays. The House was originally the family home of Anastassis and Marouko Pateras, then restored and is a museum since 1991.
---
What to buy in Chios Town:

Mastiha Shop: On the main Harbour street (Leoforos Aigaiou) you will see a Shop that sells all kind of Mastica products and more. This is a very nice place to visit and to buy some items made of Mastica
Buka: On the main Harbour Street, Leoforos Aigaiou N*56. Tel; +30 22710 22792. Grocery Shop that sells also the typical jams, Likörs and Mastica products. They also deliver

Woodicraft: Dimogerontias 4, Chios Tel: +30 2271 400016. A great little store with handmade wooden items such as toys, bowls and jewelry. A bit pricey but unique
Note: Double check the opening hours of shops in Chios, as some of the smaller shops close for lunch time between 2pm and 6pm..

Others:
Candio: Aplotarias street N* 27B. Tel: +30 22710 20350. Nice pastry shop. They also have one shop on the main Harbour street, Leoforos Aigaiou N*80
A la Creme: Kalouta Str. N* 40. Tel: +30 22710 82729. Nice pastry shop.
Where to eat:
To Tsikoudo: Leoforos Aigaiou N*40-42. Next to the Mastiha Shop. Nice Seafood restaurant
Hotzas: Geor. Kondyli Str. N*3. Known nice Taverna that opened in 1882
A nice bar at the Harbour Front is called "Plan B" and another one called "Pura Vida"
Supermarkets
to buy international cheeses, pork items or other goods:
Liedl, next to the airport
EuroSpar, north of the city
Marios, in the city center, Afon Ralli No:13. Tel: +30 22710 21676. Parallel Street to main Harbour. Whatever you buy there, you can ask them to deliver it to the Ferry when you leave.

Cell phones
:
Along the east coast of Chios there is still a good connection with Turkcell. Otherwise, you can go to
Vodafone
and ask for a free sim card with a Greek Number and they sell interesting packages for 3G connection, local and international calls.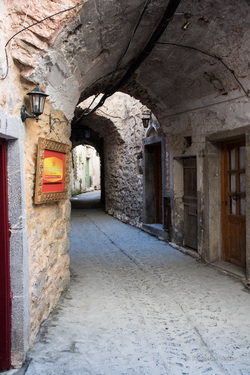 South of Chios
:
Kambos: A small area south of the airport, known for its old/ancient manor Houses and Citrus groves that was founded by the Genoese invaders in the 14th century. The Kambos area is known for their old mansions with arched windows, their enormous gates and coats of arms. Don't miss visiting the "Citrus-Museum", A nice Restaurant in the south of Kambos is: "Roussiko" in Epar.Od. Thimianon
Armolia: Small stop-place on the way to Pyrgi where you find several places of handmade ceramics.
Pyrgi: 25km south of Chios town, Pyrgi is known as the "painted village". Houses have mainly all black and white decorative motives that makes it a great visit specially for photography lovers. Visit also the Folklore Museum there.
Emborios (small Harbour with 2 nice Tavernas, we like "Porto Emborios"-Tel: +30 22710 70025), Next to it, you have the famous 'black stones' beach, called "Mavra Volia" (Volcano Beach). In this Bay you will see on the week-ends many Boats anchored what makes it a beautiful scenery
Mesta: A beautiful medieval Greek village where the main activity is the agriculture of Mastic. Go inside the castle walls to the center through the small streets. In the main square there are several places where you can eat, have a coffee or ice-cream. if you want to stay over night there, stay at the Medieval Castle Suites.

The Chios
Mastic Museum
is located in the region of the Mastichochoria. in the Pyrgio Region.Tel: (+30 22710 72212. Open daily (except Tuesdays) from 10am to 5pm
---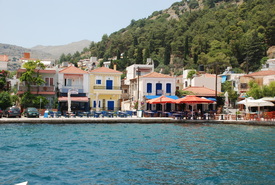 North of Chios:
Just outside Chios Town there is the small town of Vrontados, there is a big tradition at every Orthodox Easter, the 'Rocket War' (see info above).
Lagada: About 20 minutes drive north there is this small village in a beautiful Bay with many good Tavernas overlooking the Island of Ionousses and Karaburun(Turkey). Our favorites are: Geros, Tel: 22710 74855, Passas Tel: 22710 74218 and Nostos Tel: 22710 74849. There is also a small mini-market there to buy essentials. Many Boats come from Çeşme here for a day or week-end, specially now that on the quais they are provided with water and electricity. From Langada there are also Taxi-Boats that take you to the Inousses Island just in front of it.

Marmaro: In the Bay of Marmaro you will see a Harbour and several Tavernas

---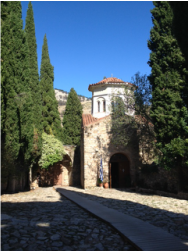 West of Chios
:
NEA MONI Monastery: Build in the 11th century is now an UNESCO World Heritage Site. Only 10 km from Chios town (or 25 min drive), this Monastery is an absolute must to see. Open from dawn till sunset ,but CLOSED at lunch time from 13:00-16:00 ! The museum inside is open only 08:00-13:00, closed on Mondays
Avgonima: It is a pre-medieval village absolutely worth stopping and walking around. Only 8km (or 15min drive) from Nea Moni Monastery. If you are hungry, go to ("To Asteri", you will enjoy the food and the view).
Anavatos: Only 6km away from Avgonima .Is this deserted village. It was built on top of a hill, at an altitude of 450m

Lithi is a small fisher town with a nice small beach where you can relax for a while. There are also several Tavernas next to the waterfront. Our favorite one is: Τα τρία αδέλφια ("the three brothers"). Visiting Sailboats can also enter the Harbour
Vessa: It is a small medieval village worth a visit

---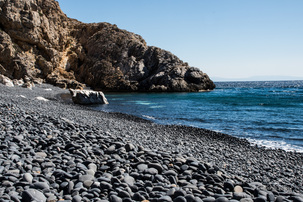 Nice
Beaches
for the ones who want to relax:
Lo's Bay and Tagma beaches, close to the city center.
Karfas: South of Chios Town where several Hotels are located.
Bella Vista and Afanis Naftis, in the south are good for windsurfing.
Komi: Long beach in the south east, next to Emborios

Elinta beach in the north east, nice clear waters
Volcano Beach (Mavra Volia) with the known black sand. In the South, at Emborios Town. Several visiting Yachts and Sailboats anchor there also
Olimpi: South of the town, there are three nice Bays with Sandy beaches, specially Kafotano where also many Boats anchor.
Lithi: On the west coast: A nice beach with several Tavernas next to it
Avgonimia: Some km down of the town, you fill find a nice big bay with sandy beach. Several Boats also anchor there.
Limnia: A small Harbour now very modern with Water, Electricity and free wi-fi. There are some Bars that opened there and next to it there are some very nice long Sandy beaches. 1km further up the mountain there is the village of Volissos. A nice town to visit. Stop for a drink or Food at "Mavro Provato", they have a nice terrace
More information about Chios, you can find at:
http://www.chiosnet.gr
or
http://www.chios.gr/en/
---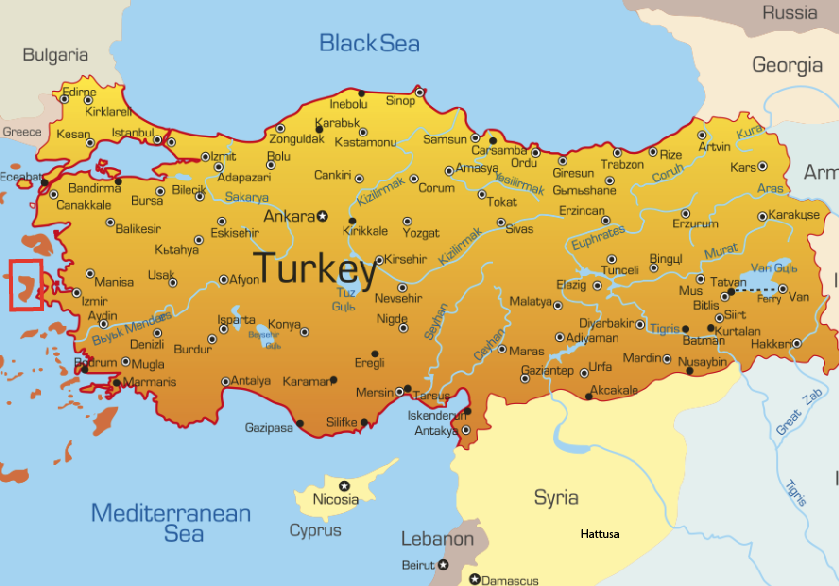 © 2012-2017 Tatjana Blanckenstein www.madeeasierguides.com Go to:
MENU