Shopping in Istanbul:
www.madeeasierguides.com

Istanbul is a Shopping paradise. Known for its open and covered bazaars, Shopping Malls and Shopping Streets. Here you will find the main places where to start looking:

The Istanbul

Shopping Festival

is during the month of July.
Bazaars and Markets: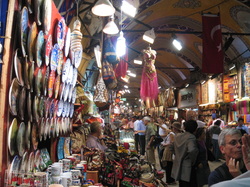 The
Grand Bazaar
(In Turkish: '
Kapalıçarşı',
meaning "Covered Bazaar"; also:
Büyük Çarşı
, meaning "Grand Bazaar" . This is in Istanbul is one of the largest and oldest covered markets in the world, with 60 covered streets and over 4,000 shops. You will find anything you want there from copper items to jewellery, leather to glass, Kilims to silver objects and much much more. A must-go. Open from 8am to 7pm, closed on Sundays.
The
Spice Bazaar
, (In Turkish: '
Mısır Çarşısı'
, or
Egyptian Bazaar
). Located in Fatih, in the neighborhood of Eminönü just across the Galata bridge. It is the second largest covered shopping complex after the
Grand Bazaar
. As the name says, you will find there lots of spices and different food items.
The
Antique Books Market
(In Turkish:
'Sahaflar Çarşısı'
) is located in the Beyazit Square, between the Grand Bazaar and the Beyazit Mosque.It is a great market area with lots of book stores, second hand book dealers and antique book sellers. Very nice place to walk around
Open from 08am to 7pm-closed on Sundays
The
Galatasaray Fish Market
(In Turkish: '
Balık Pazarı'
) is located behind the famous Çiçek Pasajı in Istiklal Street, Taksim. It is the best place for buying fresh fish. Open from 8am to 10pm, closed on Sundays.
>> If you are looking for special Food items in Istanbul,
click HERE
---
Shopping Areas and Streets: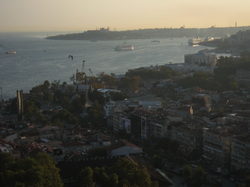 There are three main areas/Streets where you can find anything you want or need:
Beyoğlu Area:
Beyoğlu goes from the shores of the Golden Horn all the way up to Taksim Square.The most famous Street there is the
Istiklal Avenue
, a 2km long pedestrian Street. It starts at Taksim Square and leads up to Galata Tower.
It is one of the most famous Streets in Istanbul and it is visited by approximately 3 million people on a single day!
On this street you will find lots of Shops, Bars, Restaurants, Bookstores, Galleries, Consulates and many many more things. Don't miss entering the Flower Passage (Çiçek Pasajı) and the Fish market (Balık Pazarı)
Nişantaşı Area:
This is not a shopping center, but a district within walking distance of Taksim known for committed shoppers in search of sophistication. In the mid 19th century, Sultan Abdülmecid I initiated the decent living in Nişantaşı. Today, Nişantaşı has the third largest community of foreign residents in Istanbul. It is a fashionable shopping and an upper-scale residential area.
Abdi İpekçi
is one of the most expensive and classy street with very known Turkish Brands as well as world-known luxury shops such as Louis Vuitton, Prada, Cartier, Dior, Gucci, Gianfranco Ferre, DKNY and many more. Besides shopping, Nişantaşı has become a well-known culture and art center. Full of cafes and restaurants in the area, especially on
MimKemal Öke
and
Atiye
streets are luscious.
Bağdat Caddesi:
On the Asian side of the city and roughly parallel to the Marmara Sea, Bağdat Avenue is a very well known 14 km long upper market street. The first residential steps in the area were the luxurious wooden chalet mansions built after 1870′s. Some still exist and contribute to the wealthy look of the upper-scale residential area. As well as shopping, Bağdat Avenue is famous for international and local cuisine restaurants, pubs and cafes.
The outstanding line for shoppers is the 6 km long stretch with one-way traffic from
Bostancı
to
Kızıltoprak
. I recommend you to get to
Bostancı
and then walk back towards Kadiköy in the direction of the traffic flow. You will easily spend a full day in the
Bağdat Caddesi
.
Known Turkish Brands are
:
Women:
Beymen,
Vakko
,
Ipekyol
,
Network
,
Tüzün,
Derishow
,
Derimod
,
Yargici
,
Men:
Beymen
,
Kigili
,
Vakko
,
Sarar
,
Koray
Youth:
Koton
,
Mavi
,
LC Waikiki
---
Shopping Malls (Alışveriş merkezi – AVM):

Istanbul has become like a Shopping Mall Paradise during the last years.
Istanbul has the most number of Shopping Malls in a city than many other major cities in Europe and Middle East. Here are some of the most known ones in alphabetical order:
Addresistanbul : Halide Edip Adıvar Bulvarı No: 4, Şişli, Tel: (0212) 320 6262. Mainly for Home decoration
Akasya: Acıbadem Mah., Çeçen Sok., Üsküdar. Tel: (0216) 325 0372. There is also an Apple Store.
Akmerkez: Nispetiye Caddesi, Etiler. Tel: (0212) 282 0170 . They have 250 shops
Aqua Florya: Şenlikköy Mahallesi, Yeşilköy Halkalı Cad. No:93, Florya / Bakırköy. Tel: (0212) 574 5900 There is also the Istanbul Aquarium. Tel: 444 9744. A great place for kids. The Mall is just 15 minutes away from Atatûrk airport. Big place with lots of shops also and many restaurants with sea view. If you sit in one of them outside, you can admire the places coming into Istanbul.
Astoria Istanbul: Buyukdere Caddesi Astoria Kuleleri No:127, Esentepe. Tel: (0212) 215 2222. Lots of Turkish and International brands.
Capitol: Altunizade Mah., Mahir İz Cd. No:4, Üsküdar. Tel: (0216) 554 7777. Opened in 1993. It was the first Mall on the Asian side.
City's Nişantaşı: Teşvikiye Mah. Teşvikiye Cad. No:162 Kat:4. Mğz. No: 401-418-419 Nişantaşi, Tel: (0212) 373 1700.
Demirören Istiklal: Istiklal Cd. No: 54.Tel: (0212) 254 3438. In the heart of Istanbul
Emaar Square Mall: Ünalan Mahallesi, Ayazma Cd. No:78, Üsküdar. Tel: (0216) 547 1730. Luxury brands and Stores
Forum Istanbul: Kocatepe Mahallesi, Paşa Caddesi. Bayrampaşa - Tel. (0212) 443 1350
Galleria Ataköy: Bakırköy Ataköy arası sahilyolu, Tel: (0212) 559 9560
Galeries Lafayette İstanbul: Ünalan Mahallesi, Ayazma Cd. No:109, Üsküdar. Tel: 444 8994. Upmarket
İstanbul Cevahir: 
Büyükdere Cad. No: 22, Şişli Tel: (0212) 368 6900
Sapphire Istanbul: Büyükdere Caddesi, 4. Levent, Tel: (0212) 268 8080. Mall and luxury residences. One of the tallest Buildings in Istanbul
Istinye Park: İstinye Bayırı Cad. No: 73 Sarıyer, Tel: (212) 345 5555. Has about 300 Shops, national and International, Cinemas, eateries and much more.
Kanyon: Büyükdere Caddesi No: 185, Levent. Tel: (0212) 353 5300. 4-story delux shopping mall. Over 150 shops, eateries, cinemas, etc.
(MOI) Mall of İstanbul: Mahmutbey Mahallesi, Süleyman Demirel Blv, Başakşehir. Tel: (0212) 801 1000. MOI is the largest shopping, entertainment and life center of Turkey
Marmara Forum: E-5 Karayolu, Osmaniye Mahallesi, Çobançeşme Koşuyolu Bulvarı, No: 3, Bakırköy, Tel: (0212) 414 9494. Over 300 stores and 16 movie houses.
Metro City: Büyükdere Cad. No:171 1. Levent. Tel: (0212) 344 0660
Palladium Mall: Barbaros Mahallesi, Halk Cd. 8-B, Ataşehir. Tel: (0216) 663 1500. Very popular Shopping mall on the Anatolian side.
Trump Shopping center: In Şişli. Tel: (0212) 348 7867
Venezia: Karadeniz Mah., Eski Edirne Asf. No:408, Küçükköy / Gaziosmanpaşa. Tel: (0212) 618 8101. Mini Venice. There is also a small Marco's square, gondolas and more.
Zorlu Center: Kuruçeşme Mahallesi, Koru Sokağı No:2, Beşiktaş. Tel: (0212) 444 9496. This is not only a Shopping Mall. In this huge complex there is also an Hotel, Arts center, a Park and much more.
Outlets:
212 Istanbul Power Outlet: Mahmutbey Merkez Mah. Taşocağı Cad. No: 5 34217 Bağcılar. Tel: (0212) 465 5672
StarCity Outlet Center: Değirmenbahçe Cad. Kavak Sok. No:2, Yenibosna. Tel: (0212) 603 4040
Airport Outlet Center: Londra Asfaltı Kuleli Mevkii E-5 Karayolu Üzeri, Mağaza No:Kat 1- 68 Bakırköy. Tel: 444 4 212
Specific Shops
and Addresses, look at the page of
Istanbul > Where do I find...
---
Online Shopping Websites:
Very well known websites to buy online, also 2nd hand items are: