Hattuşa/Boğazkale:
www.madeeasierguides.com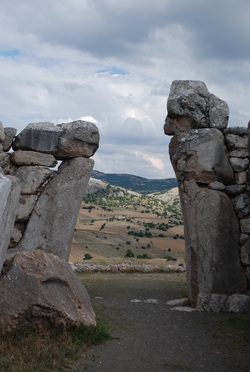 Hattu
şa/Boğazkale:
Only 200km from Ankara, in the centre of the Anatolian plains, Hattuşa was the capital of the Hittite empire from about 1350 to 1200 BC..You can walk or drive through the ruins of Hattuşa, open from 9am to 5pm . It's a 5km circuit.
> Hattuşa is part of the UNESCO World Heritage list since 1986.
If you want to have something to eat before or after the visit, go to:
Aşıkoğlu Hotel&Restaurant
: Tel: (0364) 452 2004 . Next to the entrance of the ancient capitalof the Hittitis.
Afterwards you can continue driving to Amasya.
---


Amasya: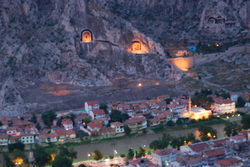 Amasya:
Amasya is a very nice small town. The area around Amasya have been inhabited already since around 5000 BC, even Alexander the Great conquered Amasya!
After the collapse of the Ottoman Empire at the end of WW1, Atatürk held in 1919 here the final planning meeting for the building of the Turkish army and then announced here the Turkish war of Independence
Where to sleep:
Ezgi Pansiyon: Tel: (0358) 218 7300 . Very small, with only 4 rooms, but very nice and clean. Placed on the riverside with a small nice restaurant.

Emin Efendi Konagi: Tel: (0358) 212 6622. They have also a good restaurant inside
Taşhan Hotel: Dere Mah. Özkan Yalçın Cad. No: 11. Tel: (0358) 212 9900
Where to eat:
Ali Kaya Restaurant: Tel: (0358) 218 1505. On top of the Hill with amazing views on Amasya. It's worthwhile going there to see the sun going down or for dinner. They are liscensed.

Strabon Restaurant: Tel: (0358) 212 4012. very nice Mezzes and fish. They are liscenced

What to see:
The Hazeranlar Mansion, The Pontic Tombs and the Citadel. The Amasya Museum, the Archeological and Mummy Museum and walk around the nice streets along the river.
---