Ankara: Culture-Kültür www.madeeasierguides.com

Culture centers, Museums, Mosques,
Concert Halls & Opera,
Galleries, Cinemas
Exhibitions & Fairs

Museums card (Müzekart):
The Müzekart provides free access to museums and archaeological sites run by the Ministry of Culture and Tourism.
cost of the card:
TL 40: over a period of one year (limited access of each site to 2 times )
TL 50: over a period of one year (unlimited access to each site)
Müzekart can be used by Turkish citizens, citizens of the Turkish Republic of Northern Cyprus, foreign students enrolled in associate degree, bachelor's degree and master's degree programs of higher education institutions in our country and students who are enrolled in universities in the Turkish Republic of Northern Cyprus affiliated with the Council of Higher Education (Turkey) provided that they present university identification cards.
Places of Interest
For more information: Ankara Tourist office: Tel: (0312) 231 5572. www.kultur.gov.tr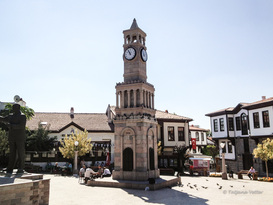 There are two areas in Ankara you should not miss visiting.
ULUS/ SAMANPAZARI: At the gates of the Citadel, down the hill there are thousands of fantastic shops where you can find all sorts of things, necklaces, carpets, furniture, antiques, jewelry of all kinds, things of copper, rugs and much more. There are some places to park "Otopark" (about 5 TL). It is the only part of "old" Ankara with a bit of charm. In the section of "shops" and "restaurants" you will find detailed information on what to buy and where to eat.

HAMAMÖNÜ : This area, not far from Ulus, close to the Hacettepe Hospital is an area that most of the Houses have been restored. very nice to walk around, have a coffee or tea and visit the old prison and Hamam.Drive up Talatpaşa Bulvari until you see the Hamam on the left side and the Hamamönü clock on the right hand side. From Atakule it's only a 10-12 min drive.

---
Museums:
Anitkabir: Atatürk's mausoleum and a museum that is worth seeing- a must. Anıt Caddesi Tandoğan, Tel: (0312) 231 7975. Open: 09:00- 16:30. Closed on Mondays.
Museum of Anatolian Civilizations: The most interesting museum of Ankara, a must. In Ulus, 100m from the Citadel. Kadife Sokak. Open daily from 08:30 - 15:15 h. Tel: (0312) 324 3160. In the winter months it's closed on Mondays
Ankara Children's Museum and Science Center: Inside the Armada shopping Mall, C-Block No:13.. Eskişehir Yolu, Söğütözü. Tel: (0312) 240 5000
Atakule: At the corner of Cinnah Caddesi and Çankaya Caddesi.You can go up to the top with a lift. 10 TL, the view is worthwhile
Atatürk Orman Çiftliği/ Atatürk forest farm and Zoo: Alparslan Türkeş Caddesi 72, Çiftlik .Tel: 211 02 20. Walk under the green trees and pay a visit to the replica of the house where Atatürk was born in Salonica. Covering an area of 25,000 acres, the farm today hosts a Zoo, beer factory, wine distillery, fruit juice factory and a dairy
Aviation Museum: İstanbul Highway 12th km. Etimesgut . Tel: (0312) 224 8550. Opened Wednesday to Sunday.
Cankaya Museum of Modern Art/Çağdaş Sanatlar Merkezi: Kennedy Cad. 104. They host many exhibitions throughout the year
Cartography/Mapping Museum: The "Mapping Museum", which was established on May 2, 1971 as a complex inside General Command of Mapping - GCM (Cebeci/Ankara), is a 2nd class military museum. The museum was restored in 2003. During the restoration, the museum was re-designed in three separate aisles where works of some famous painters, both military and civilian, historical maps and surveying instruments were exhibited. Additionally, a corner was devoted to the memory of Lieutenant General Mehmet Sevki Olcer, the founder of General Command of Mapping. Open Tuesdays and Thursdays. Organized Domestic and/or international visits can be paid provided that a written permission is granted by Ministry of National Defence. Applications must be made to General Command of Mapping. For any question or information in this regard, please contact via email or Tel: (0312) 595 2230
Çengelhan Rahmi M. Koç Museum: in Ulus, opposite the entrance of the citadel. It is dedicated to the history of Transport, Industry and Communications. They also have a restaurant inside that is very good. Tel: (0312) 309 6800
Cer Museum: Altınsoy Caddesi, 3 Sihhiye-Ankara, Tel: (0312) 310 0000. Museum of modern art. Open Tuesday to Sundays from 10:00 to 18:00 h
Citadel : It's worth going on a sunny day. On the top of Ulus, passing the main arch, walking through the streets, looking at shops that sell all sorts of local things, lunch and above all take good photos ...
Cumhuriyet Müzesi: (Turkish Grand National Assembly Republican Museum): Doğanbey Mh./Cumhuriyet Cad. Ulus .Tel: (0312) 311 04 73. This is an important building in which Atatürk's principals and reforms came to life, the most important decisions taken on the way to develop the new Republic
Ethnography Museum: Talat Paşa Bulvarı. In the south of Ulus. In this Ottoman house had Atatürk his offices. Open 8:30-12pm and 13:30 to 17:00. Tel: (0312) 311 9556.
Gokyay Chess Museum: Sakarya, Talatpaşa Blv No:71, Altındağ, Ulus. Tel: (0312) 312 1304 /05. Open from 10:00-18:00. Closed on Mondays. There is also a cafe inside the courtyard and a museum shop where you can buy replicas of some chess sets.
Kapali Cezaevi Müzezi: Ulucanlar caddesi, 63. Hamamönü/Altindag. Tel: (0312) 319 0112. Tue-Sun from 10am to 4pm. Old prison founded in 1925 and closed in 2006, now restored and is a museum. Worthwhile visiting if you are in the area.

Köşk Museum: This was Atatürk's residence between 1921 and 1932. It is located on the grounds of the Presidential Palace. Çankaya caddesi. Open Sundays only from 13:30- 17:00 or for private visits upon appointments
Liberation Museum: On Ulus Square where the first parliament Building was. Various pictures and items and also wax figures of the former presidents' of the Republic of Turkey. Closed on Mondays
Monument of the Republic: Symbol of the struggle for Independence on the part of Atatürk and the turkish people in the war of Independence. The monument was erected in 1927 in Ulus square.
Müze Evliyagil: Turgut Özal Bulvarı , Şevket Evliyagil Sokak No: 1, İncek. Tel: (0312) 460 1106. Open Thursday, Friday, Saturday and Sunday from 11.00 - 17.00. Contemporary art and exhibitions in a three-floor 750 m2 exhibition area, statue garden, screening room and library.
Open-Air Steam Locomotive Museum: Celal Bayar Bulvari, Maltepe. They have a huge collection of steam trains. Interesting and fun for kids
Roman Baths: Çankiri Av./Atatürk Blv., Ulus. Open 08:30 -17:00. Tel: (0312) 310 7280
The Erimtan Archeology and Arts Museum: Kale Mahallesi, Gözcü Sokak No:10, 06240, Altındağ, Ulus.Tel: (0312) 311 0401. Open from 10:00-18:00. Closed on Mondays, public and religious holidays. New private Museum opened in March 2015
The National Library, Milli Kütüphane Baskanligi Bahçelievler are Durak, Tel: (0312) 212 6200​​
TRT Museum (Turkish Radio & Television Broadcasting). In the main TRT Building, Oran. Open on Monday, Wednesday, Friday from 11am to 3pm.
T.C. Ziraat Museum. Inside the Ulus Branch of this bank you will find a big collection of coins and money. The Building itself is worthwhile seeing. Open Monday to Friday from 9:00-17:30.
---
Mosques of Interest:
Kocatepe Mosque: A new mosque of great size in classical Ottoman design with four minarets. Built between 1967 and 1987 in the Kocatepe quarter, its size and prominent situation have made it a landmark.
Alaaddin Mosque: Inside the Citadel, Ulus. It has a carved walnut mimber, the inscription on which shows that the mosque was built in the 12th century by the Seljuk ruler, Mesut.
Aslanhane Mosque: This Seljuk mosque, near the citadel, was built in the 13th century. The mosque has a mihrap of Seljuk tiles, and an unusual double colonnade of wooden columns. Next to the mosque is the tomb of Ahi Şerafeddin.
Ahi Elvan Mosque: In Ulus near the Citadel, this mosque was built and finished during the Iate 14th and early 15th centuries. The finely carved walnut mimber (pulpit) is of special interest.
Concert Halls and Operas
:
Ankara State Opera and Ballet: Atatürk Bulvarı No:20 Ulus. Tel: (0312) 324 2210 . The opera tickets cost between 12 and 30 TL, and in general the season starts in October. Opera Sahnesi (Büyük Sahne). ​ To purchase tickets send email to bilet@dobgm.gov.tr or phone the Opera.
Leyla Gencer Sahnesi, Baglan Caddesi, 16, Macunköy, Tel: (0312) 354 6046,

Bilkent Symphony Orchestra (Bilkent Senfoni Orkestrası),
Bilkent Konser Salonu, Tel:(0312) 290 2284, 290 1775, bso@bilkent.edu.tr , Tickets are about 15 TL and can be purchased at: Bilkent Concert Hall, Beymen (Arjantin Avenue)Dost Bookstores (Kavaklıdere, Kizilay Ankuva) and Diapason (Kavaklıdere). The concerts usually start at 20h and free buses that go up there out of Tunus Caddesi and the Kütüphane Milli (library) , and one hour before the concert starts.
CSO (Cumhurriyet Senfoni Orkestrası (Presidency Symphony Orchestra), www.cso.gov.tr​​, Talat Pasa Bulvari 38 - Ulus, (0312) 309 1343

Mozart Haus: Nilgün Sokak, Bağ Apartmanı, 14/2 Çankaya. cell: (0533) 369 7450 or (0532) 709 8840

IF Performance Hall: Tunus Caddesi No: 14/A, Kavaklidere. Tel: (0312) 418 9506

Jolly Joker: Kızılırmak Sk. No:14 Kızılay. Tel: (0312) 424 1111

MEB Concert Hall: Atatürk Bulvarı No: 98 C Blok 3. Kat, Beşevler

Congresium: Söğütözü Caddesi No:1/A, 06510 Çankaya. Tel: (0312) 285 0385

METU KKM: At the METU (Middle East Technical University) Campus, Balgat

State Art and Sculpture Museum: Talatpaşa Bulvarı Opera Meydanı, Altındağ

Samm's Bistro: Uğur Mumcu Caddesi No:19 G.O.P. Tel: (0312) 447 9000

Tickets and other spectacles in general:
You can purchase the entrance tickets online at:
Biletix
and
MyBilet
.
Tickets on sold via
Biletix
can be also purchased in the following outlets:
Tunalı Dost Kitabevi: Atatürk Bulvarı, 237/14-15 Kavaklıdere

Çayyolu Dost Kitabevi: Arcadium Alışveriş Merkezi Karşısı 8. Cadde No: 179/1 Çayyolu

Bilkent Dost Kitabevi: Ankuva Alışveriş Merkezi No:18/19/20 Bilkent

Kızılay Dost Kitabevi: Karanfil sokak 11 / A Kızılay

Galleries:
The main galleries in Ankara are;
Gallery Z, Atpazarı Sok. 13, Samanpazarı, Ulus. Tel: (0312) 309 5807

KAV Art Gallery: İlkbahar Mah. Konrad Adenauer Cad. No: 61,Çankaya Tel: (0312) 491 2232
Turkuaz Art Gallery: Cinnah Caddesi/ Kırkpınar Sok. 5/A. Çankaya Tel: (0312) 439 1479

Dam Sanat Gallery: Bülten Sok. 10/1, Kavaklıdere Tel: (0312) 427 4131

Arete Sanat: Turan Güneş Bulvarı No: 98, Kat: -2, Çankaya, Tel: (0312) 440 0881
Ankara Art Gallery Tiflis Cad. 45/A, Çankaya Tel: (0312) 440 6699

Galeri Nev :Gezegen Sok.5, GOP. Tel: (0312) 437 9390

Galeri M: 4.Cadde, Şehit Mustafa Doğan Sokak 41/A,Yildiz. Tel: (0312) 439 1211

Gür Dalkiran: Şemsettin Günaltay Cad. 472. Sk. 6 / 1, Çankaya Tel: (0312) 496 3340
Galeri Akdeniz: Tagore Cad. (4.Cadde) 720. Sokak Şahinler Sitesi B Blok No: 5/B, Yıldız Tel: (0312) 441 2999
Find here he list of all mayor
Art galleries in Ankara
,
Cinemas (Sinema):
To view the programs and times, look at:
Cinema program
. There are cinemas in the following Shopping Malls: Armada, Cepa, Kent Park, Panora and other shopping centers
Exhibitions/ Fairs:
The two biggest places in Ankara where fairs take place are: